Leaders Who Brunch virtual café - joyful connection for nonprofit leaders
Sales Have Ended
Registrations are closed
This event is now over. The café opens again on 8th July.
Sales Have Ended
Registrations are closed
This event is now over. The café opens again on 8th July.
Leaders Who Brunch is a unique breathing space for purpose-led leaders to get support and inspiration from like-minded peers.
About this event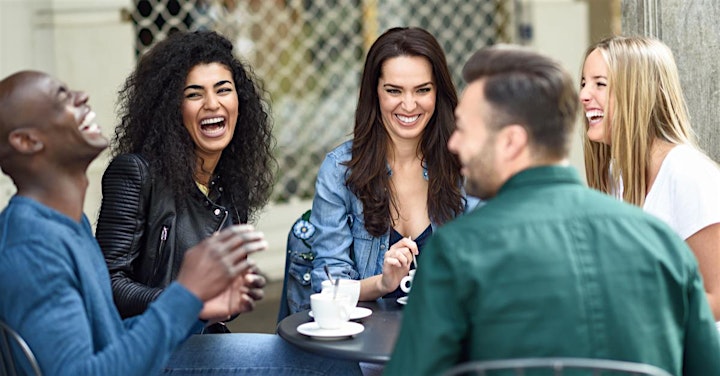 Are you missing your colleagues and the buzz of the office at this strange time?
Could you do with a space where you can share how you're really feeling over a coffee?
Would you value some warm, confidential support from sector peers who really get it?
Come and meet with me, coach and trainer Katie Duckworth, and your wise and thoughtful peers, at the Leaders Who Brunch virtual café.
8.45 - 10.15 am Wednesday 22 July 2020
Theme: What's next? Exploring options and creating personal plans.
Leaders Who Brunch is a unique breathing space for purpose-led leaders to get support and inspiration from like-minded peers in a fun, non-judgmental, energising environment. In the 18 months we've been meeting in person we've created something really special and it's already transfering beautifully to our virtual café. There's so much good will, warmth and love going around - not to mention expertise and ideas.
I'm so excited to host this space to you and your peers. It feels so important that we look after each other at this time and what better place than the Leaders Who Brunch virtual café? Where there's all the connection of brunch with friends and colleagues - without the bugs.
We'll kick off with a short intro and practical guidance on our theme. In the second half of the meet-up you'll get to support each other with advice hot spots, informal chats and peer coaching on any issue you want to bring. You can ask for help or give it, just as we do when we meet in person. Either or both is great!
Arrive any time from 8.45am for informal chat. We kick off officially at 9.00 o'clock.
Oh, and it's a BYOB café - Bring Your Own Brunch!
So, who exactly is the online café for?
You don't have to be a senior leader in the traditional hierarchy to come along. If you see yourself as a leader of people you are one:
CEOs & Directors, Heads of, Team leaders, Aspiring leaders, Freelancers - you are all welcome
If you are from a non-profit or purpose-led organisation, a charity big or small, a social enterprise, a progressive business or movement - you are welcome.
What will you get out of it?
warm, non-judgemental connection with like-minded peers on the same up-and-down journey as you
confidential support, advice and ideas to help you move you through this extraodinary time
coaching from peers on the sticky issues and challenges that are an inevitable part of your job
practical skills, tools and techniques that you can put in place straightaway
breathing space to reflect, be heard, or to explore fresh perspectives and ideas
accountability to the group (if you want it) for actions you're committed to taking
an opportunity to explore outside the group-think of your organisation or field
a spring in your step as you head out for the rest of your day. Even if it's just back to your small corner of the living room.
What people say about Leaders Who Brunch
I'm so delighted that Leaders Who Brunch has taken off and that your sector peers have valued these get-togethers. This is what Sarah Gosling from the Young Gamers & Gamblers Education Trust recently told me:
"It was good to meet people today and hear stories that are so similar to mine – the challenges, opportunities, fears and hopes. It normalised how I feel a bit and was just lovely to be part of a chatty group for a while. You have certainly lifted and inspired me as I start my longest day of lockdown so far."
Anne Danks, Head of Transition at Christian Aid also expressed the value of these sessions beautifully:
"Leading in an organisation can be a lonely experience. Sometimes you have to make tough decisions and can't necessarily offer explanations for them, because of confidentiality - and the need to justify yourself can be powerful! At Leaders Who Brunch there is a safe space to let off steam, hear stories from others and find sounding boards. In a fast-paced and noisy world, it's also a quiet and focused time to reflect and consider, to take stock, and find some shared wisdom.
Rachel Key, CEO of LifeSpace Trust shared this with me about our last meet-up:
"I absolutely loved it! It was great to "be in a room" with other people facing similar challenges. Useful information, shared experiences and, thanks to Katie's friendly facilitation, an injection of (much-needed) energy!"
So, come along if you'd find value in warm connection with other leaders on the same deeply rewarding but challenging journey as you.
Feel free to show up however you are - up or down, happy or sad, inspired or dejected, and anywhere in between. All feelings are welcome (as are cats, dogs, babies and Zoom-bombing children).
________________________________________________________________________
** 😀 Please note - I have created Leaders Who Brunch as a safe and lively place where purposeful leaders can share freely and support each other. I ask those who also provide services to the sector to please respect this intention by not pitching at the meet-up or afterwards. Thank you for your understanding 😀 **
Any questions? Drop me a line at Katie@katieduckworth.com. Or take a look at a blog or two on www.katieduckworth.com to get a sense of what I'm all about.
Organiser of Leaders Who Brunch virtual café - joyful connection for nonprofit leaders
Described by one of her clients as a bundle of infectious enthusiasm, Katie Duckworth is an inspiring facilitator, speaker, coach and trainer. She supports purpose-led leaders and their teams to love their work, get more of the right stuff done - and change the world for the better.