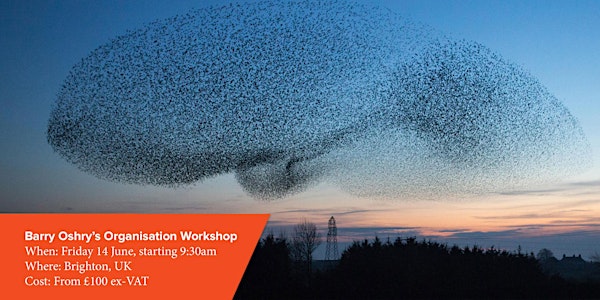 Leadership - A Systems View: Barry Oshry's Organisation Workshop
Location
St Augustine's Event Centre
Junction of Stanford Avenue and Florence Road
Brighton
BN1 6EA
United Kingdom
Refund policy
Refunds up to 30 days before event
Description
"Insightful, moving. The best training I've ever taken part in."
Emma Kenny, Head of Strategy, National Citizen Service
Future Considerations, Living Leadership and JB Vista are delighted to offer this one-day, high impact simulation workshop centred around four critical questions:
How can you generate greater partnership and engagement across your organisation?
How can you create a more empowered, collaborative and innovative work culture?
What difference would it make to act systemically: seeing how context and 'structures' drive behaviour?
How can you deepen your insight, cultivate your compassion and enhance your effectiveness?

The workshop is based on the highly acclaimed work of sytems theorist Barry Oshry.

Workshop leaders are John Watters, who is the leading authority in Europe on Barry Oshry's systems leadership work, and Ali Warner who is an accredited trainer in all of Barry Oshry's frameworks together with Julie Beedon from JB Vista.
What to expect from the workshop?
High impact, experiential learning.

Practice mindfulness skills relevant to leadership.

Simple, strategic frameworks that offer deeper insight and wiser action strategies.

Time for reflection to relate the learnings to your unique circumstances.

The centrepiece of the day is an organisational exercise where participants enter a fast- moving, turbulent environment as either a top executive, middle manager, worker or customer. The experience closely mirrors day-to-day organisational life so that there's no backing away from the impact that your behaviour has on others and the organisation's performance.
What you will walk away with:
Gain a whole system view of the organisation.

Strengthen your capacity to create resilient partnerships: up, down and across organisational boundaries.

Address the root causes, not just the symptoms, of misunderstandings, communication problems and conflict.

Understand more and blame less.

Bring a deeper wisdom, compassion and effectiveness to your life and work.

Produce better results for yourself, your organisation and all your stakeholders.
The workshops starts at 9.30am & finishes at 5.00pm. Lunch is included in your fee.
"It's easy to underestimate the power of Oshry's work until you have taken this workshop. It was a life changing experience. You will find instant applications to both your personal and professional life."



Seema Malhotra, MP for Feltham and Weston, UK