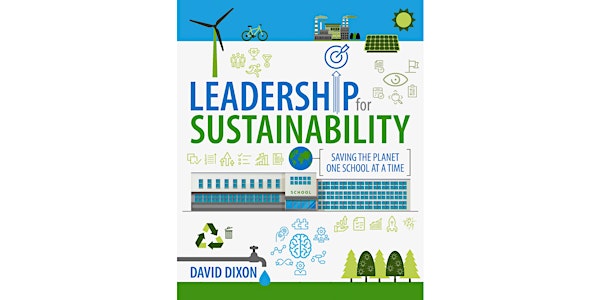 Leadership for Sustainability Book Launch (rescheduled due to covid)
Location
Rathfern Primary School
Rathfern Road
London
SE6 4NL
United Kingdom
Launch of David Dixon's thought-provoking and practical book outlining how schools can become sustainable and successful in every sense.
About this event
This event has been rescheduled due to a covid outbreak.
If you had booked a ticket for this event, please re-book for 22nd June here: https://www.eventbrite.co.uk/e/leadership-for-sustainability-rescheduled-launch-event-tickets-325898891357
You are welcome to join the launch of:
On 26 April, at 6pm at Rathfern Primary School, SE6 4NL See map here
Mobilised by the stirring words and protests of Greta Thunberg, young people all over the globe are calling for more action to combat climate change and better protect their futures. Yet they cannot do this alone. They are reliant on people in positions of power to get the necessary changes in motion – and these people include their own school leaders within their own local communities.
This book is a rallying cry for all schools to unleash their potential and deliver a brighter future for both their pupils and society at large. And this urgency is underlined by the stark warnings that feature in the UN's Code Red climate report.
In Leadership for Sustainability, David Dixon draws on his doctoral research and experience as a cross-phase head teacher to set out how school leaders can embed tried and tested eco-friendly practices within the school setting that can also be central to overall school improvement, including that recognised by inspectors. David weaves his guidance around the 'Five Cs of Sustainability' – captaincy, curriculum, campus, community, and connections – to position sustainability as a natural vehicle for developing a type of fully integrated learning ecology and culture for the benefit of all.
Children are welcome, snacks and drinks will be provided. Catford has a significant air pollution problem so we ask that come on foot or bike, or by public transport. Catford and Catford bridge stations are a seven-minute walk away, and the 185, 171, 124 and 284 all stop very near by.