Description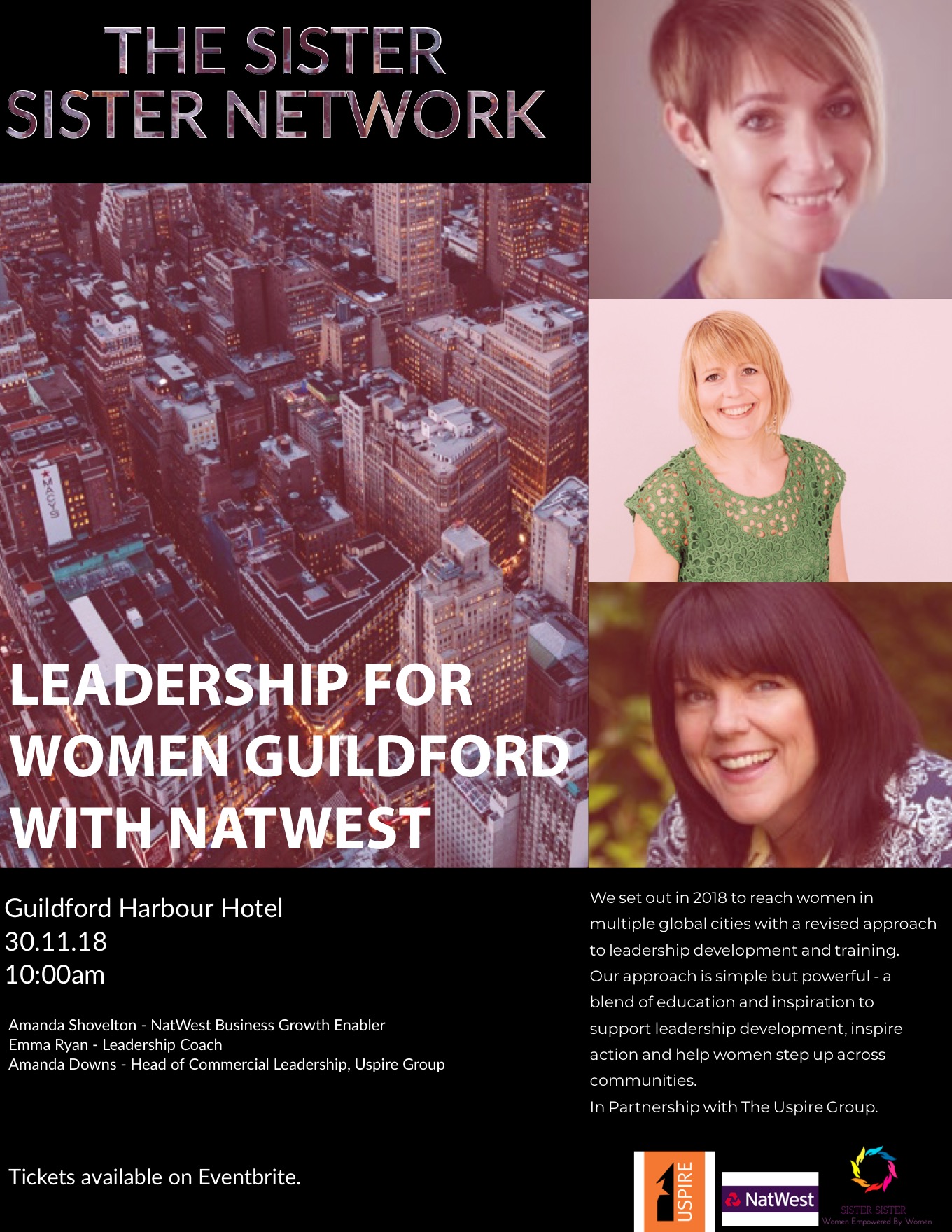 NatWest are proud to partner with The Sister Sister Network to host their very first Guilford event. We are delighted to invite members of the local business community to this educative and impactful session with highly skilled leaders who are keen to bridge the gap between leadership and aspiring leaders. Tickets are FREE but spaces are limited.
ABOUT LEADERSHIP FOR WOMEN
We set out in 2018 to reach women in multiple global cities with a revised approach to leadership development and training. Our approach is simple but powerful - a blend of education and inspiration to support leadership development, inspire action and help women step up across communities.

The results have been powerful. With more women crediting their increased leadership awareness and performance to the Leadership For Women Series.

Our purpose remains to offer women the skills, tools and essential understanding to support effective leadership development and the opportunity to network and share ideas with female leaders in the community.

Guide Agenda:
Welcome
Leadership for Women Talk
Coffee Break and Networking

Panel Discussion
Close.
ABOUT THE SISTER SISTER NETWORK
A Different Kind of Network:
We set out to create a network for every woman, because we believe that every woman should have access to the right information, the right skills and a network of like-minded inspirational women and men to succeed . ​
The Sister Sister Network is a growing global women's empowerment community founded to Empower, Educate and Inspire women across the globe through knowledge sharing, skills acquisition and relationship building.
We believe in the power of diversity of experiences and thought and that collectively women can effect the changes we want to see.
By offering women the necessary skills and support required to achieve success in life, business and career such as training, coaching, mentoring and networking we are contributing to the global advancement of women's rights through our initiative.
Our network is home to women from different backgrounds, professions, cultures and experiences but we all come together to raise our ONE voice of empowerment and inspiration; that women can be all they set out to be and live fulfilling and high- impacting lives across the world.
We create platforms for building relationships, facilitating education and supporting women at various stages in their individual journeys.
Our Vision:
To become the leading global women's network providing empowerment, education and inspiration for women across the globe.
Our Mission:
Our mission is to provide women with the opportunity to gain insight, education, empowerment and inspiration required to achieve their personal goals and our collective ambitions.
This is The Sister Sister Network –Where Women Empower Women
(https://www.sistersisters.co.uk/copy-of-home-2).
NatWest Boost:
NatWest 'Boost' is about providing support for your business that goes beyond just finance. As your Business Growth Enabler, I can connect you with the right people, with the right knowledge, to boost your business and help it grow. We have a team of over 70 Business Growth Enablers in the UK who have supported more than 250,000 customers through free events, individual consultations and networking.
https://www.business.natwest.com/business/Boost.html
About the event presentation
All information used in this presentation you are registering for is produced for information purposes only and is for the sole use of the attendees at the presentation.
Whilst we feel this topic is beneficial to business owners, the views expressed are not intended to be and should not be viewed as individual advice or as a recommendation by RBS, NatWest or any third party. You should seek independent advice in respect of issues that are of concern to you.
To the maximum extent permitted by law we expressly disclaim all representations, warranties, or assurance of any kind, expressed or implied, that are made to the accuracy or completeness of the information contained in this presentation and do not accept any obligation to update or correct any information contained herein.
During the event photographs may be taken on behalf of the host with a view to posting on social media to promote services offered to customers. If you do not wish to be included in the photographs please notify us.
For the avoidance of doubt RBS/NatWest does not produce the materials for all presentations. This disclaimer applies equally to any materials or presentations produced by a third party.
By registering for this event you agree that you have read and expressly agree to the use of your personal data submitted as part of your event registration by Eventbrite in accordance with their:
Important Security Information

NatWest will NEVER ask for your full PIN or Password when identifying you on the phone or online, and will NEVER ask for Card Reader codes on the phone or when logging in.

Fraudsters may claim to be the bank and try and access security information. If you receive a call or email from NatWest that you are suspicious about, cease the call immediately, or forward the email to phishing@natwest.com. Visit natwest.com/security for more information and advice.

National Westminster Bank Plc, Registered in England and Wales No. 929027.

Registered Office: 135 Bishopsgate, London, EC2M 3UR. We are authorised by the Prudential Regulation Authority and regulated by the Financial Conduct Authority and the Prudential Regulation Authority