Leadership Summit - A New Generation of Women in Leadership

Saturday, 7 March 2015 from 09:00 to 19:00 (GMT)
Event Details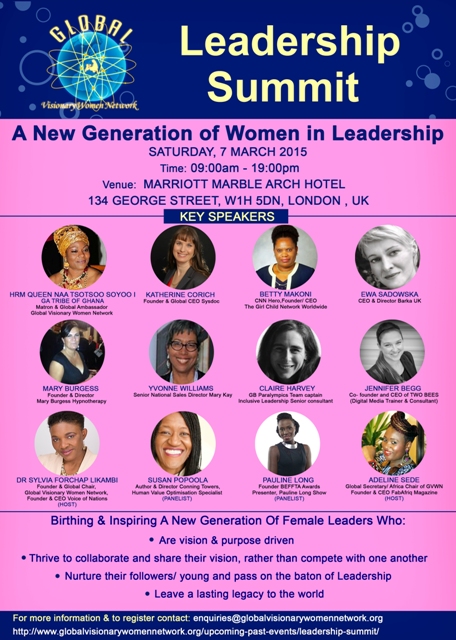 This one day Leadership summit will take place on the 7th of March 2015, at the Marriott Marble Arc Hotel London, and expected to host up to 100 delegates from across the nation and globe. There will  be a breakfast meeting and dialogue amongst the leaders and speakers on the 8th March.

The summit will provide a national platform for well established female leaders, young aspiring leaders and visionaries from various walks of life and nationalities within the UK and afar, to come together in a National Summit during The International Women's Day 2015 and share their journey, success stories/strategies, challenges, and business/leadership models amongst other female leaders and aspiring leaders.

The aim of this is to discuss, share, and promote best collaboration and inclusive strategies and excellence to bridge the gap and promote gender equality and female leadership, whilst providing guidance, encouragement, and motivation for young aspiring female leaders to become more pro-active and united in tackling the current gender and social issues affecting the girl child.

There is no better time and place like now and here to birth and encourage  a new generation of female leaders who are vision driven, and thrive to collaborate and share their vision, rather than compete with one another, and hold on to the baton of Leadership, without passing  it on and leaving a legacy to the young generation of leaders.
Please Join us raise the next generation of female  leaders required to change our world for good. We are currently preparing a line up of World Class Leaders and Speakers for the day. Contact us if you will like to join our speaker list at: enquiries@globalvisionarywomennetwork.org
enquiries@globalvisionarywomennetwork.org
enquiries@globalvisionarywomennetwork.org
enquiries@globalvisionarywomennetwork.org
enquiries@globalvisionarywomennetwork.org
When & Where

Marble Arch Marriott Hotel
Marble Arch Marriott Hotel
W1H London
United Kingdom


Saturday, 7 March 2015 from 09:00 to 19:00 (GMT)
Add to my calendar
Organiser
Global Visionary Women Network (GVWN) is a unique global network, and the first of its kind ever set up in Liverpool/UK, with a global perspective and vision, to foster and encourage global female empowerment, leadership, and transformation, through the provision of a global platform for national and international collaborations, knowledge exchange and investment opportunities.
The vision of GVWN is to unite visionary women from all walks of life and nations to educate and empower the ordinary girl child and woman into extraordinary citizens and leaders of purpose, and it affiliated to award winning life transforming social enterprise, Voice of Nations (VON), with thousands of members, community groups.
The Network will host annual global conventions (GC) and National Leadership summits, providing members, visionaries, entrepreneurs, businesses and sponsors with the unique opportunity to connect, collaborate, share good practices and promote/expand their services/products and businesses to potential local and global stakeholders/partners.
For more information about our upcoming Global Convention, an official event of IFB2016 and Global Visionary Women Network, please visit the following sites:
IFB2016 Official Site: https://www.ifb2016.com/
Global Visionary Women Network: http://www.globalvisionarywomennetwork.org/