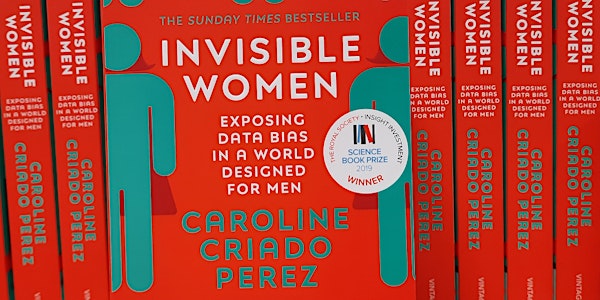 #LeadershipLounge 'Invisible Women' , facilitation by K. Meyne & colleagues
The 'Leadership Lounge' is an initiative to provide opportunities to discuss current & interesting leadership, management & education texts.
About this event
The 'Leadership Lounge' is an initiative from the ILA to provide opportunities to discuss current and interesting leadership, management and/or education materials/texts in an informal environment. It is an early evening social event at the ILA, designed to provide an opportunity to meet and share experiences and your thoughts with international school colleagues in a friendly and fun evening.
Who is this programme for?
This book club is for aspiring, new and current leaders in education.  This includes teaching and learning staff as well as those in support roles.  Please read the information below to find out more about the text to consider how this may relate to your role.
What's Involved?
Participants are required to read the text in advance of the session. Each book club is facilitated by one or more colleagues. As BSN staff you will receive a free copy of the book from the ILA library as a loan.
What is the Text?
'Invisible Women' by Caroline Criado Perez
Text Overview
Invisible Women: Exposing Data Bias in a World Designed for Men is a number one Sunday Times bestseller, described as 'a book that changes the way you see the world.' It is currently being translated into 30 languages and is the winner of the 2019 Royal Society Science Book Prize, the 2019 Financial Times Business Book of the Year Award and the 2019 Books Are My Bag Readers' Choice Award.
In this book, Caroline Criado Perez analyses how gender politics are affected and enhanced by gaps in 'big data'. Invisible Women shows us how, in a world largely built for and by men, we are systematically ignoring half the population. It exposes the gender data gap – a gap in our knowledge that is at the root of perpetual, systemic discrimination against women, and that has created a pervasive but invisible bias with a profound effect on women's lives.
Invisible Women was described by Caitlin Moran as "one of those books that has the potential to change things – a monumental piece of research." Melanie Reid in The Times called Invisible Women "a game-changer…making an unanswerable case and doing so brilliantly…the ambition and scope – and sheer originality – of Invisible Women is huge…It should be on every policymaker, politician and manager's shelves," a sentiment that was echoed by Nicola Sturgeon who described it as "revelatory," adding that "it should be required reading for policy and decision makers everywhere." It is a frustrating, eye-opening and fascinating read, and one which will make you reconsider how you experience the world around you, regardless of your gender.
The Author
Caroline Criado Perez is a best-selling and award-winning writer, broadcaster and award-winning feminist campaigner. She is published across the major national media and appears in both print and broadcast as a commentator on a wide range of topics.
Notable campaigns include getting a female historical figure on Bank of England banknotes; getting Twitter to introduce a "report abuse" button on tweets; and getting the first statue of a woman (Millicent Fawcett) in Parliament Square. She was the 2013 recipient of the Liberty Human Rights Campaigner of the Year award and was named OBE in the Queen's Birthday Honours 2015. In 2020 she was the recipient of Finland's HÄN award for promoting equality, and in 2021 she received an honorary doctorate from the University of Lincoln.
You can read more about Criado Perez at her website here: https://carolinecriadoperez.com/
Facilitators
Katy Meyne has taught at the British School in the Netherlands for the past five years at JSD campus. She will be facilitating this session alongside colleagues, including Jocelyn Capon, who will be sharing some of her work on gendered spaces.
We ask that you come to this session prepared to ask questions, to challenge and be challenged, and to reconsider your own perspective. Thank you in advance.
Session Date
Tuesday 29 March 2022 17:00 to 18:30
Cancellation Policy
Cancellation can be made up to four weeks before the first day of delivery by contacting us directly at info@bsnila.com . Please inform us in due time if you unable to attend the session.
Website tags: #support #leadership
Staff url: https://app.blueskyeducation.co.uk/training/82554
Organizer of #LeadershipLounge 'Invisible Women' , facilitation by K. Meyne & colleagues