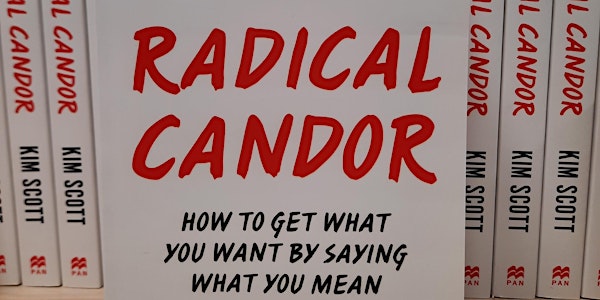 #LeadershipLounge 'Radical Candor' - facilitated by S. Vickers & M. Damant
The 'Leadership Lounge' is an initiative to provide opportunities to discuss current & interesting leadership, management & education texts.
About this event
The 'Leadership Lounge' is an initiative from the ILA to provide opportunities to discuss current and interesting leadership, management and/or education materials/texts in an informal environment. It is an early evening social event at the ILA, designed to provide an opportunity to meet and share experiences and your thoughts with international school colleagues in a friendly and fun evening.
Who is this programme for?
This book club is for aspiring, new and current leaders in education.  This includes teaching and learning staff as well as those in support roles.  Please read the information below to find out more about the text to consider how this may relate to your role.
What's Involved?
Participants are required to read the text in advance of the session. Each book club is facilitated by one or more colleagues. As BSN staff you will receive a free copy of the book from the ILA library as a loan.
What is the Text?
Radical Candor by Kim Scott
Text Overview
At is core, Radical Candor is based around the concept of 'caring personally while challenging directly'.
Using the Radical Candor framework, it provides a template for leaders to give feedback in a direct, sincere, and straightforward way, without falling into the traps of 'ruinous empathy, manipulative insincerity or obnoxious aggression' (the other three areas of the framework.)
The desired result is Radical Candor – the 'sweet spot' where feedback is given in a kind and helpful way. It's not Obnoxious Aggression – brutal honesty or so-called 'front stabbing.' It's also not 'ruinous empathy' – not wanting to embarrass or say something which would upset someone and inadvertently causing them more embarrassment in the long term. It's definitely not 'manipulative insincerity'- the so-called stab in the back - the worst of all styles.
Many of us would describe our management style as caring and supportive. Radical Candor, however, provides a big wake-up call that by sometimes adopting the 'ruinously empathetic' approach and trying to be kind, we can (inadvertently) actually do more harm than good to the people we want to help. The approach is a useful framework for how to provide honest feedback (both in our professional and personal lives), even though it can often feel very much outside our natural comfort zones. It helps to improves a team's trust in a leader, feels empowering and most importantly, can improve performance.
Session Facilitators
Stacey Vickers has led teams in education, the EU and the British Government for 14 years. She currently works as Head of Communications & Admissions at the British School in the Netherlands. Previous roles have included Head of Internal Communication at the Foreign Office and Spokesperson for an EU Commissioner.
Manuela Damant is a leadership expert, coach and NLP trainer. She started her career in insurance and later worked for Shell International Limited both in Switzerland and London for 10 years, before she retrained as NLP Coach & Trainer in 2003.
Since then Manuela has worked internationally with individual and corporate clients and has become an expert on leadership with a special passion for collaborative, co-creative and authentic leadership. Enthusiastic, optimistic, energetic she believes in the innate good in everyone and everything.
Session 
Tuesday 15 February 2022 17:00 to 18:30
Cancellation Policy
Please let us know in due time if you can't attend the session by contacting us directly at info@bsnila.com . Thank you.
Website tags: #support #leadership
Staff url: https://app.blueskyeducation.co.uk/cpds/new?training_event_id=83020