Sales Have Ended
Registrations are closed
Thank you for your booking, we look forward to seeing you on 26 March.
Sales Have Ended
Registrations are closed
Thank you for your booking, we look forward to seeing you on 26 March.
How to repair the world without breaking yourself
About this event
About This Event
Becky inspires and supports leaders in the health and social sector to step all the way into what they're here to do on this planet. And it's always bigger than they thought. As the Principal and Owner of the Billions Institute whose motto is "Friends don't let friends lead social change alone" she will work with you in a living laboratory of just that -supporting you, challenging you and coaching you to make real changes to the way in which you approach the health and social problems that face you.
Becky will share her wisdom through a combination of keynote delivery and discussion on your actual work-based challenges. You will have the opportunity to share any issues, challenges, problems, or potentials for you that you'd like to explore a little further. The masterclass will be part informal Q&A session, with the option for live, transformational mini-coaching sessions, Becky will adapt real-time to the needs of those who show up.
Becky works with many change agents to make the world a better place. This really is an opportunity to both hear from Becky and to learn about how you can strengthen the impact of your own project for change. Unmissable!
Learning Outcomes
At the end of the masterclass you will:
Understand the critical factors that enable effective leadership for social change
Consider your own leadership role as a transformational social change agent
Learn how to navigate this difficult and challenging work through bringing your whole and best self
Understand what changes you can make personally to accelerate your own growth
About the Speaker
Becky Margiotta is the Principal/Owner of The Billions Institute, LLC, She is the author of the forthcoming book, The Inner Work of Social Change: How to Repair the World Without Breaking Yourself, and the host of the Unleashing Social Change Podcast. Through the Billions Institute, Becky has trained over 1,000 people from every continent except Antarctica on how to lead powerful social change from their integrity and in their genius. She wants everyone who is working to make the world a better place to know they are not alone, to love what they do, and to be wildly effective. Becky's keynotes will possibly make you cry, probably make you laugh, but one thing is for sure, she will definitely make you think about everything you do as a leader in a different way.
Previously Becky directed the 100,000 Homes Campaign for Community Solutions, which mobilized 186 cities to permanently house more than 100,000 people who had previously been living on their streets in just under four years. A graduate of West Point, she also served for nine years as an officer in the US Army, both in Special Operations and Special Mission Units. Becky received a Masters Degree in Organizational Change Management from the New School and her awards include the White House "Champion of Change" award, the Schwab Foundation "Social Entrepreneur of the Year" award, and the National Conference on Citizenship's "HOOAH" award. She is living happily ever after in Claremont, California, with her wife and their two kids, Huck and Vivian.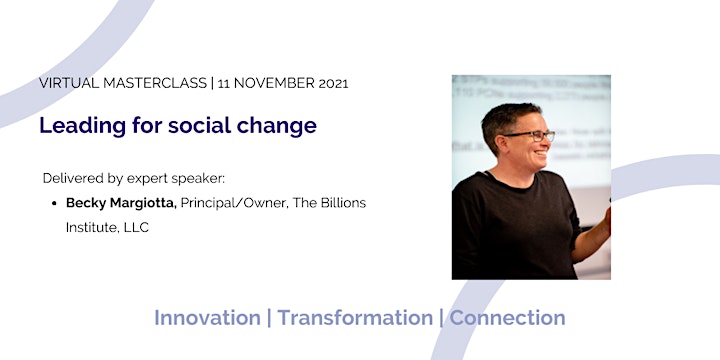 Joining the masterclass
Joining instructions will be sent 48 hours before the masterclass is about to start.
You can join Zoom via your laptop, tablet or smartphone. If you are joining by smartphone, you will need to download the free Zoom app first. You can join Zoom by telephone only but you will only be able to hear the audio (similar to a telephone conference call).
If you have never joined a Zoom call before, you might want to watch this short video before you do (featured below). You can also watch a short tutorial on connecting your audio here.
About the Collaborative
We are an influential partnership, formed from cross sector organisations in the North West. We represent the NHS, health and social care and local government to bring you a range of collaborative masterclasses.
By combining our unique specialisms, the collaboration explores innovative thinking with expert speakers, to provide cross sector knowledge sharing for leaders across the North West.
The collaborative is made up of the following organisations:
Advancing Quality Alliance (AQuA),
Mersey Internal Audit Agency (MIAA)
NHS North West Leadership Academy (NHS NWLA)
North West Employers (NWE)
North West Association of Directors of Adults Social Care Services (ADASS)
Innovation Agency Coaching Academy