Discover more about our flagship programme: Leading from Within - a personal development and leadership programme designed for women.
About this event
Leading from Within is a leadership development programme with a difference. Designed for every woman - at any stage in her journey - wanting to step into the fullness of her potential, rediscover her voice and speak her truth.
We invite you to join our recent graduates as they showcase their learning and experience of Leading from Within.
At She Leads Change, we're passionate about helping women find and be their best selves - able to lead change more effectively.
On this evening you will:
+ Experience what it's like to be part of our Leading from Within programme;
+ Learn from our previous cohorts;
+ Discover how you can lead and succeed both personally and professionally;
+ Connect with a like-minded, open-hearted community
Visit our website (www.sheleadschange.org) for more information on our programmes.
Here's what our recent graduates say...
"The programme has taken me wide and deep, sometimes to uncomfortable places. With the support and encouragement from the wonderful facilitators and my peers, light has come from the dark."
"I have learnt to embrace discomfort and know that there is a tribe supporting and relating to you and it will ultimately all lead to growth."
"This programme gave me a positive outlook and perception about myself (my strengths and flaws) and helped me accept both of them with equal panache."
"The SLC community is wonderful. This is a community like no other. To call it a course almost diminishes its power and its impact. It's so much more than a course - it rattles you, it provides you with tools, it connects us and builds us up."
**Over this past year, we have impacted many lives with our work - and almost 50% of the places we have given out across programmes have been sponsorships for deserving women or as part of a free COVID response. A huge thank you to those who have supported us over the years. There is no obligation, however, should you wish to sponsor an upcoming She Leads Change participant, please consider a donation towards gifting a place.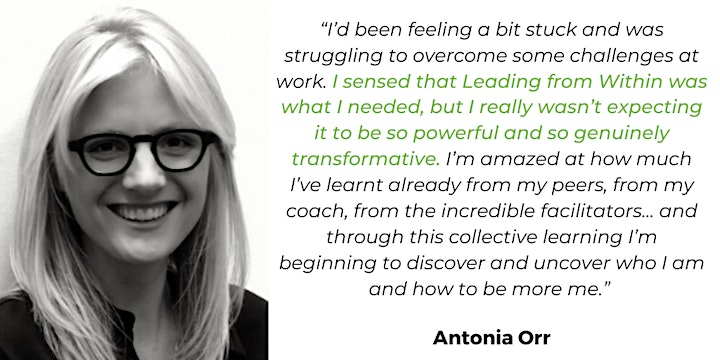 Organiser of Leading from Within: a graduation showcase
She Leads Change is a not-for-profit organisation determined to support people to find generative ways of leading positive change. It began in 2018 when a group of women came together in a peer-group to encourage one another to step up into new leadership roles, in new ways. Hundreds of women have subsequently joined programmes which focus on helping change-makers to find more courage, confidence and competence. Our vibrant community gathers regularly and hosts a learning and development programme, a book club and events throughout the year, open to all. We are grateful to organisations including Pearson, Nesta and Orient Capital for their early and ongoing support. We celebrate and appreciate diversity and use surplus funds to offer sponsorships.