Description
Rapid, disruptive change is today's normal. To cope and thrive, leaders need to be agile and resilient. Our organisations, localities and the wider GM system requires resilient leaders, emotionally intelligent people able to absorb complex change and help others move forward to achieve success. Resilience is more relevant than ever as we juggle work lives which are disruptive and ever changing with the often increasing demands from home.
"Being a Resilient Leader" is a powerful one day workshop that brings together the latest developments in neuroscience, positive psychology, emotional intelligence and resilience to help you enhance your own well-being, feel less pressured and facilitate resilience and well-being in your teams.
Those with resilience tend to exhibit four specific traits:
Confidence, A clear sense of purpose, Collaborative qualities, Adaptability
Join us at the workshop to discover what is needed to survive and thrive in the turbulent world that seems to be the new normal for us all. During the session you will learn how to:
Surface your current resilience level and gain tips to bolster and boost your wellbeing

Build Positive/trusting relationships and connections

Learn to trust your own judgement and abilities – banishing self-doubt

Identify/clarify your own purpose, values and vision

Be more emotionally intelligent with yourself and others

Develop your ability to live with uncertainty and ambiguity

Craft an effective strategy to create a better, more integrated work-life balance
Learn how to become a more authentic, influential and resilient GM leader in the face of uncertainty, ambiguity, frequent setbacks and new challenges. Gain practical tools and strategies to guide you through difficult times, including the ability to recognise the importance of self-care, self-compassion and self-efficacy plus wider coping strategies for you and your team.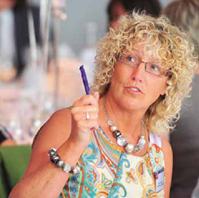 Rene Barrett is a Partner Associate of North West Employers, as well as being an independent development consultant, a fellow of the CIPD, with an MBA, has extensive understanding of the transformation agenda and the needs of practitioners across the public sector.
Rene's previous experience includes being Director of Development at North West Employers, Assistant Director of HR with Salford Council and as Director of Learning for the GMB trade union. She has extensive employee relations experience and is regarded as a leading regional figure in relation to leadership and workforce development.
Rene supports public sector organisations both regionally and nationally in the diverse areas of leadership and management, workforce development, partnership working, action learning, and the development of creative problem solving skills. Increasingly she is working with clients, both individually and organisationally on building resilience and wellbeing.