Location
The Media Centre
Northumberland Street
Huddersfield
HD1 1RL
United Kingdom
Description
'Have you got what it takes?' is a unique workshop that explores how you compare against the key attributes that make for successful intrapreneurs or entirepreneurs. These are those incredible, transformative, versatile individuals who successfully combine the skill sets of entrepreneur, manager and leader to build and develop outstanding organisations in today's complex business world called the New Normal.
In this intensive, short workshop, co-hosted by John Thompson, Emeritus Professor of Entrepreneurship at the University of Huddersfield and David Broadhead, founder of Partners in Management, you will;
Appreciate the implications of the New Normal business world.
Explore the concept of intrapreneurship, in other words the entire-preneur.
Self-score yourself against the proven key attributes of Talent, Temperament, Technique and Discernment, that are proven attributes to getting things done.
Plan your own appropriate future development, understanding why.
Using the proven methodology behind The Entirepreneur and the analogy of a deck of playing cards, you will determine;

How

strong

is your hand?

How balanced is your hand?
What's missing?
Can you find these attributes in a colleague?
Can you build and improve your hand?
Do you care enough to do it?
As this is a special launch event for this new joint venture, all participants will also receive a signed copy from John of his book 'The Entirepreneur.'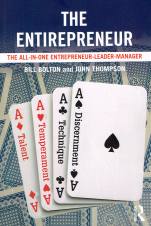 Breakfast and networking is at 8.30 prior to the workshop commencing at 9.00 a.m.