Description
The Tech for Life team invite you to join us in celebrating the North East's Leading Ladies in STEM at Campus North on Ada Lovelace Day, Tuesday October 11th from 4pm - 6.30pm.
We will have a panel of our very own Leading Ladies from across the generations who will be giving us insights into their career journey, challenges and experiences looking at what has changed (or not) over the past 30 + years.  It is a chance for all girls and women to be part of a STEM careers showcase with role models from the industry both as our panel guests and our attendees. Details of of panel will be annouced shortly! 


Doors open at 4pm with refreshments

Panel discussion and 'fireside chat' 4.30pm

Networking from 5.30pm onwards

We are an all-inclusive bunch so invites are open to all! Come with your questions and join our #LeadingLadiesinSTEM campaign @TechforLifeUK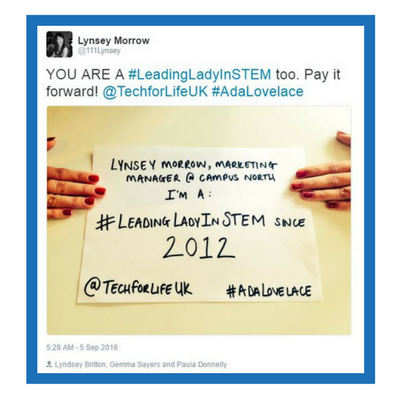 It's easy! Tweet a picture with your name and job title using the hashtag #LeadingLadyInSTEM and tag @TechForLifeUK. Add the year you started you career in STEM and pay if forward by tagging those Leading Ladies you know!