About this Event
Join us at Re:Centre on the Hammersmith riverside for a hands-on workshop and come away with your very own miniature and a whole toolbox of reusable skills.
We will be running a series of terrarium workshops in one day with an exclusive new class featuring one of our favorite pieces of flora and the perfect spring addition to the Leafage workshop range: the timeless orchid.
Choose your favorite workshop when you book and get ready for a memorable event!

Stay grounded with Leafage
-
Session 1: Leafage Orchid Terrarium 10:00-11:30 (1.5 hours)
Learn how to create a charming miniature garden filled with lush, delicate orchids - all encased in an elegant glass container. The perfect way to capture nature in the heart of the city. Ready to be your latest home decor piece or gifted to a loved one, this is the ideal handcrafted ornament for any home.
Session 2: Leafage Cactus Terrarium 12:15 - 13:45 (1.5 hours)
Learn how to create a beautiful and low-maintenance open terrarium with succulents and cacti, a perfect miniature Sahara desert for urban dwellers.
Session 3: Leafage Tropical Terrarium 14:15 -15:45 (1.5 hours)
Learn how to create a self-contained garden that's grown in a closed glass container. Think of it as a mini-greenhouse, a perfect miniature garden for any plant lover's home.
VIP PASS: Leafage Orchid + Cactus + Tropical Carafe Terrariums
Sign up and become a terrarium specialist with our VIP PASS: the opportunity to build and design three delicate terrariums personal to you. Keep them all to decorate your home or give them away as unique bespoke gifts - it's up to you!)
-
As we like to say at Leafage, no gardening experience is required to create your own piece of timeless flora.
Please note, all equipment will be provided for you as well as a care guide of how to look after your terrarium at the end of the workshop.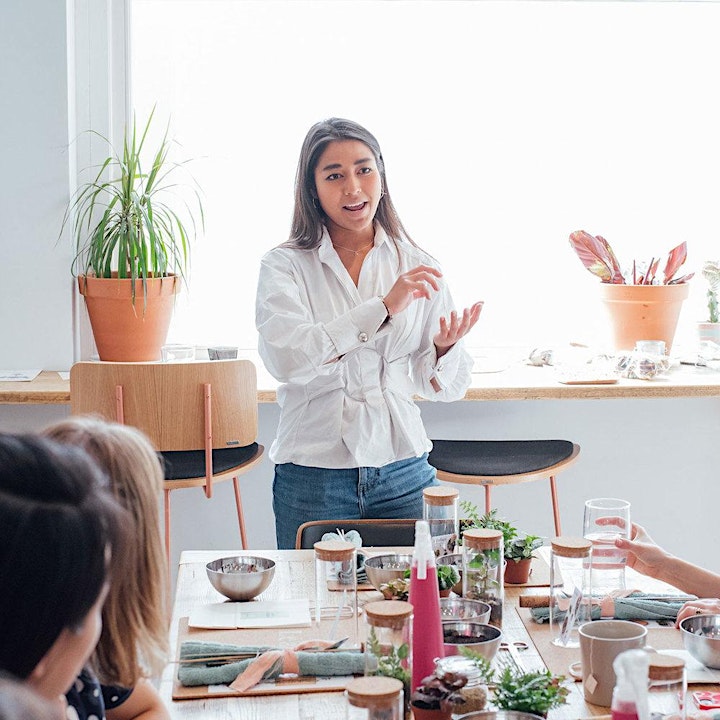 About Leafage
Leafage was born from the simplest of desires; to connect people and to inspire and cultivate a love of nature. And so founder Kay Suppamas sought to revolutionise the way in which her city dwelling peers, who had limited access to their own green space, interacted with plant life.
About The Venue
Re:Centre is a mindful sanctuary of rest and reflection – a space to connect to ourselves and others in a more authentic and balanced way. Located in a beautiful, tranquil, light filled space on the Hammersmith riverside.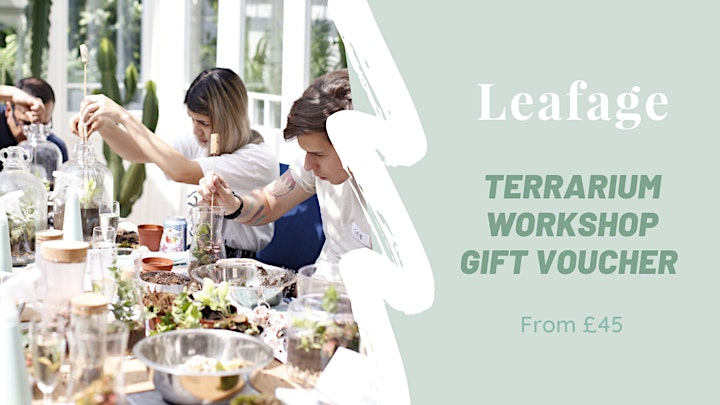 Leafage Gift Voucher
Treat your friend, family or colleague with the gift of creativity to enjoy a Leafage workshop.