About this Event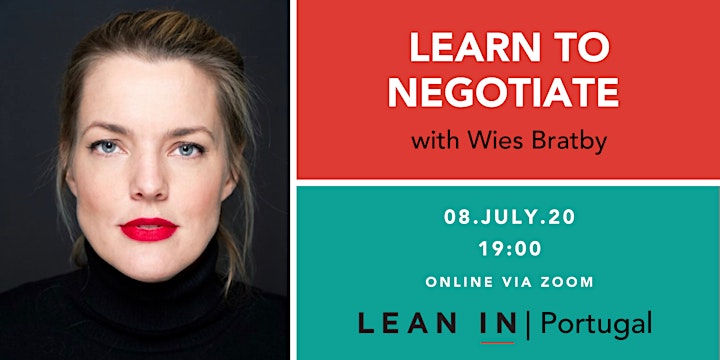 Lean In Portugal is part of LeanIn.Org's global Circle community, which includes more than 48,000 Circles in over 174 countries. At Lean In Portugal, we have more than 4 Circles and 2535 women in our community today.
Circles are small groups of women who come together regularly for real talk and peer support. Right now, Circles are meeting virtually—and you're welcome to join (find out more on our Circles page)
Would you like to learn to negotiate in a way that doesn't just preserve your relationships and reputation, but IMPROVES them, AND gets your dream results? Me too! One of my friends just used Wiess' advice to negotiate her salary on a new job. She is now getting paid 40% more than the previous job she left. When she told me, I called Weiss and asked her to do this session for us at Lean In Portugal. I want you to learn how to negotiate so you ask for what you want, need and deserve for yourself in reward for all the hard work you put in.
During our session, Wies will share what holds women back from negotiating their worth, the effect of neglecting to negotiate your career and the insights changing your perspective, so you end up excited to have these career-defining conversations. She will help you with mindset exercises and practical negotiation strategies, and there will be roleplaying to put your new-found knowledge into action.
As a woman, you probably spend your life advocating for your family, your friends and your clients, but now it's time for YOU.
Wies is a top-lawyer-turned-HR-Director-turned-coach-slash-consultant. Originally from The Netherlands and having lived in different countries, she now calls Switzerland home. Through her coaching and consulting practice Women In Negotiation, she helps women across the world realise their worth, communicate it and get them the positions and salaries they want.
As President of Lean In Switzerland, she helps leverage women's peer support powers and organizes workshops and conferences regarding diversity and inclusion.
Wies is also a sought-after keynote speaker and workshop trainer, inspiring women to proactively negotiate for everything they want, need and deserve in their careers and lives.
www.womeninnegotiation.org
-----------------------------------------------------------------------------------------------
Please note this workshop is just for women and those identifying as women
For security reasons, we will verify everyone joining Zoom. To register, you will be required to share your LinkedIn or Facebook profile. Alternatively, join our Facebook Closed group to get the link - Lean In Portugal International Network (https://www.facebook.com/groups/842900445866109/) or watch the livestream in Lean in Portugal (https://www.facebook.com/Leaninportugal/) or Portuguese Women In tech (https://www.facebook.com/portuguesewomenintech/) Facebook Pages.