Lean Six Sigma Green Belt Certification, in association with McKnight Graci...
Description
The Programme
Gives you world class problem solving tools and methods, that will deliver measureable improvements in your organisation.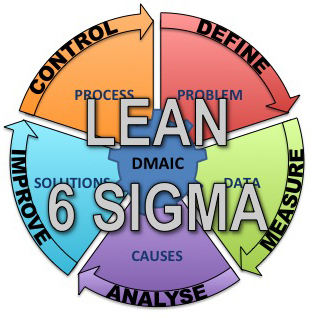 What You Get According to Our Past Participants
Practical knowledge, tools and processes to lead small teams to improve a business process using the Lean Six Sigma methodology.

Interactive course using small team sessions to learn, practice and implement new skills using a standard business simulation to achieve enhanced performance

Improvement of your ability to lead project.

Development of a practical understanding of the "DMAIC" Lean Six Sigma Method

Understanding of how employees can be involved to

solve business problems

Networking with people from other organisations

Programme Ingredients
A FREE iPad mini with interactive course materials and templates for the Lean Six Sigma tools pre loaded

iPad writing stylus

5 days of activity workshop

Spiral bound, colour course packs

Up to two hours of personal coaching from world improvement expert & Master Black Belt, Matthew Gracie

Industry recognised standard Green Belt Certification on completion of improvement project and documentation.

The Technical Bit
Day 1 - Define: Introduction and overview of the Green Belt program and how to get Green Belt certified. Defining the problem methods and tools.
Day 2 - Measure: Understanding the size of the problem; where, when, how often, who and comparing performance against the customer requirements.
Day 3 - Analyse: Finding the root causes of the problem using process mapping and analysis techniques
Day 4 - Improve: Generation and selecting solutions for the problem and planning and implementing those solutions
Day 5 - Control: Sustaining the solutions so that the problem does not reoccur, monitoring the process and recommending future enhancements.

Program review, Green Belt exam on day 5 and next steps.
McKnight Gracie Biography
I started off at Motorola as graduate Product Engineer, and it was here that I had my first encounter with Lean methodology, assuming that it was normal working practise. I moved to the Digital Equipment department and where I met statisticians, Dr Ian Cox and Dr Malcolm Moore, who were helping the engineers improve their processes. In a discussion about improving engineer's skills I had said that knowledge and basic use of statistics was critical. All the managers agreed and suggested that I put together a program, as I was more knowledgeable and had some drive for it. The engineers loved it and it quickly became a standard development requirement for them. The mobile phone division wanted their own program and by that time I had brought the Statistics classes program into the overall Motorola Six Sigma methodology to achieve major process improvements and had also moved into Motorola University who "owned" the Six Sigma legacy, so they asked me to design an integrated program that would deliver Six Sigma Black Belts.


The Six Sigma program delivered verifiable measurable benefits as we linked the projects to the major problems and issues that the business had. Each Black Belt had to demonstrate business benefit through their projects and at that time there were also opportunities for promotion so the visibility it gave each Black Belt made it a big stepping-stone for their careers. Also, as the program was transferable, it could be taken anywhere, and there are so many people all over the world who look back on that program in Motorola and see it as a milestone point of their careers. I'm so pleased that I was the main cog that started it. I moved to a world-leading consultancy in 2001 where I could take this knowledge and help other global companies and industries. Leading companies like Alstom, BP, DHL, Johnston & Johnston, Kuwait Petroleum, Microsoft, Pfizer and Verizon.

Now, for the top FTSE 100 companies, at the very least, it is a business standard and going without an improvement program called Business Excellence or Operational Excellence or Lean Six Sigma is unthinkable and considered business madness. There comes a point when you want to create your own way and have more flexibility to work with the clients in different areas. I've travelled across the world and worked with so many different cultures, and one country I have done very little with, in the last 15 years, is Scotland. I hope to do more of that and help to continue to build for a better future for all, by sharing what I have learned and practiced.
Administration
You will get drinks throughout the event and a quality buffet lunch..
If you have special dietary and or access requirements please get in touch with Jane Robertson on 01786 447 548 or jane@robertsontraining.co.uk .
200% Guarantee
Our programmes come with our cast iron guarantee to meet the training objectives or we will honour our 200% money back guarantee. We are so confident in the quality of our programmes, that we guarantee you will meet the training objectives as long as you:- do the required advance actions, participate fully at your workshop(s), create a specific set of actions and keep your commitment to maintaining your Performance Diary.
FAQs
Where can I contact the organiser with any questions?
For help or information regarding course content, contact Matthew Gracie on 07850 975 174 or enquiry@mcknightgracie.com.
Otherwise, contact Jane Robertson on 01786 447 548 or jane@robertsontraining.co.uk .
What are my transport/parking options getting to the event?
We have free parking at and around the Robertson Training Centre.
If you are travelling via bus or train, pick-up will be available half an hour before the event starts, and a return journey will be available post-session. Please contact us for more details.
What can/can't I bring to the event?
Bring you open mind, curiosity and completed advance learning.
Is my registration/ticket transferrable?
You could transfer your ticket to someone else as long as they do any advance learning.
Do I have to bring my printed ticket to the event?
Yes please so that we can register you quickly.
What is the refund policy?
We don't offer refunds as a matter of course. If you think there could be a problem with your attendance please get in touch with us as early as possible.
The name on the registration/ticket doesn't match the attendee. Is that okay?
You should let us know the correct attendee details as soon as you arrive so that we can update the attendance certificate.