Become a confident dancer with We Dance Pop. Learn a routine to a great pop song!
About this event
Every Monday 7pm -8pm
Our schedule:
6 December: Queen - Don't Stop Me Now
13 December: Sugababes - Round Round
20 December: Wizzard - I Wish It Could Be Christmas Everyday
All We Dance Pop classes are:
suitable for beginners
sociable
relaxed
gender-neutral
fun!
In this class, you will:
learn a range of dance moves to add to your repertoire
learn about song structure and dance principles so you have the language to talk about music and dance
have fun within a community of people who are also developing their dancing
To find out what other songs we're dancing to, visit www.wedancepop.com. You can also nominate and vote for future tracks!
18+. Venue has step-free access.
Prices:
1 class: £10
2 classes: £19 (£9.50 per class)
4 classes: £29 (£7.25 per class)
5+ classes: £7 per class
Covid-19 measures
Before attending a class, consider if you have any of the following:
a high temperature
a new, continuous cough
a loss of, or change to, your sense of smell or taste.
If you have one or more of these symptoms (even if they are mild), you should not attend and follow NHS guidance on testing and self-isolation. There is also guidance on what you should do if you live with, or have close contact with, a positive case.
We ask that participants take a COVID-19 test within 48 hours of attending a class, where this is practical and possible. **You should not take part if you need to self-isolate** (for example, because you have tested positive or are asked to self-isolate by NHS Test and Trace).
Consider your own health and circumstances (for example, if you are not yet double-vaccinated or if you live with somebody at higher risk of serious illness from COVID-19), before making a choice about attending.
The safety measures we've put in place include:
asking participants to take a COVID-19 test before attending a class
displaying an NHS QR code for participants wishing to check in using the app, to support NHS Test and Trace, and having a system to collect (and securely store) names and contact details for those who ask to check in but do not have the app
if our venue recommends the use of face coverings (when not participating in sport or physical activity), we communicate that to participants
following guidance from relevant governing bodies
reducing the risk of transmission by not including dance moves that require physical contact with other participants
advising participants that water bottles or other refreshment containers should not be shared. Where we provide water or other beverages, these are provided to individuals and are not expected to be shared.
Regarding face masks, government guidance says: 'People should not generally wear a face covering while taking part in any strenuous activity or sport, unless they have been advised to do so by a physician.'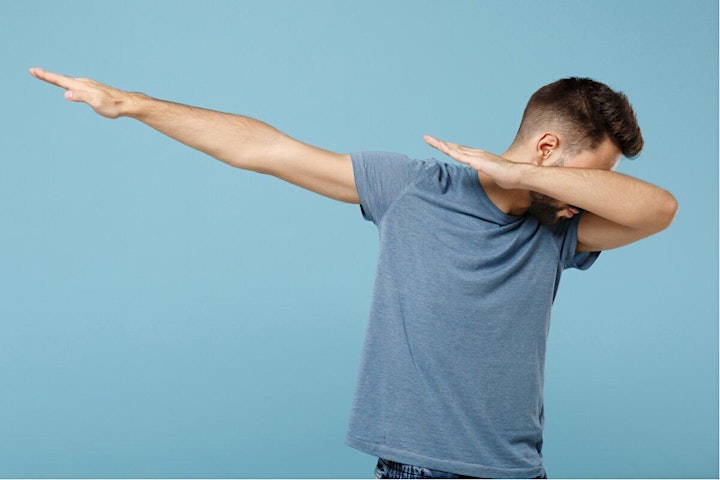 Organiser of Learn a Routine! (Shoreditch Mondays 7pm-8pm)
We Dance Pop runs non-stylised dance classes in London for adults with little or no dance experience.
In winter 2021, we're running a series of classes called 'Learn a Routine'. In these classes we teach a simple group dance routine to a great pop song. You learn about the structure of the song and how to apply basic dance principles.
You can even nominate and vote for songs to dance to in future weeks via www.wedancepop.com!