Description
Brush Lettering Workshop Christmas Special
Brush lettering is a type of modern calligraphy using a paintbrush, rather than a pen, and is a more relaxed type of script than traditional calligraphy is. Hand lettering with a brush feels slightly different than lettering with a dip pen, but just as fun and some say the results look more expressive!
In this 2 hour workshop you'll learn how to master brush lettering and create a personalised brush lettering Christmas bauble, lettered by hand, by you!
Through demonstrations and guided exercises you will:
start on paper, using ink and a brush, and practise mark making techniques. This will warm you up and get you used to the brush and writing on a flat surface. You'll discover how you can manipulate the brush to create the different kinds of strokes needed in brush lettering.

build up your confidence and learn how create a brush lettering alphabet. You'll learn the tips and tricks needed to join up letters to form words

take your newfound brush lettering skills to the next level, creating a personalised ceramic Christmas bauble, which will be yours to keep, (or give away as a gift!) You'll be able to brush letter your name or someone special's name, onto the bauble, using special paint that can handle being fired in a kiln. If you prefer to keep things simple, you'll have the option to just paint an initial onto the bauble, taking inspiration from the brush lettering alphabet. Your teacher, Shoshy will demonstrate how you might want to decorate your bauble with little green holly leaves and red berries.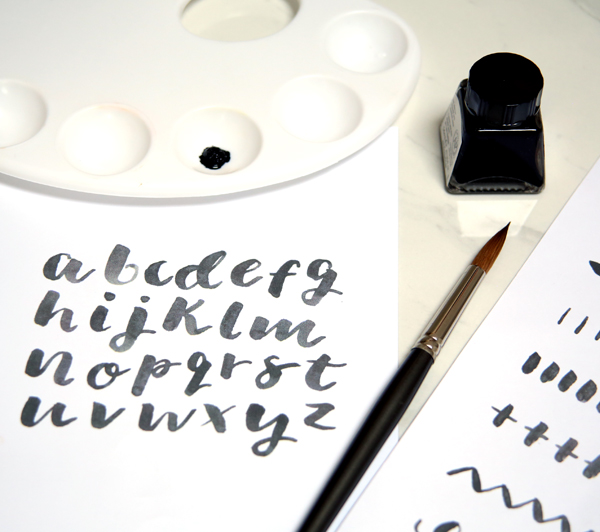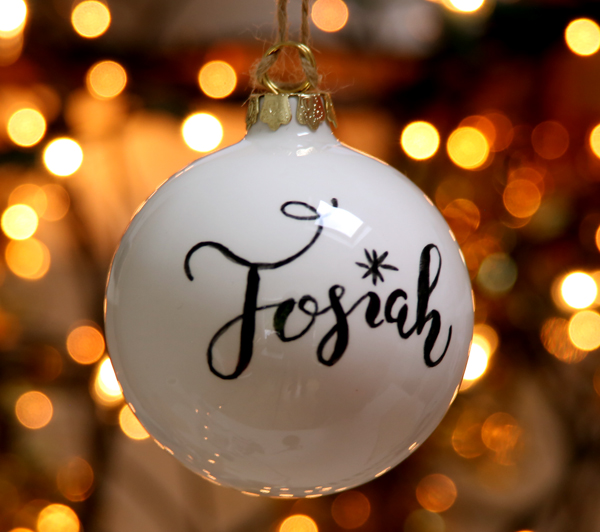 As well as the instruction you'll receive through watching the demonstrations, Shoshy will provide feedback throughout the class in an encouraging atmosphere and there'll be plenty of opportunities to ask questions and get more advice if you need it.
As well as keeping your bauble, you'll also receive hand outs, which will include brush lettering examples and written instructions, so that you can keep on practicing your brush lettering at home!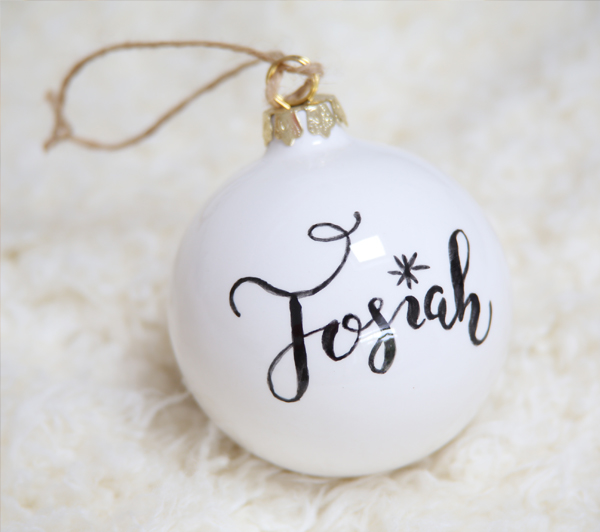 Your finished bauble will be shiny, and come complete with a pretty golden fastening
This brush lettering Christmas workshop will take place in North London, at Muswell Hill's Zebra ceramics studio.
After the workshop, Zebra ceramics will glaze and fire your bauble, giving it a beautifully finished sheen and turning it into an ornament to treasure forever. This process is carefully done and takes a few days. You'll be able to collect your finished, shiny bauble 10 days after the workshop. Perfect timing to decorate your tree - or wrap up your bauble to give as a gift at Christmas!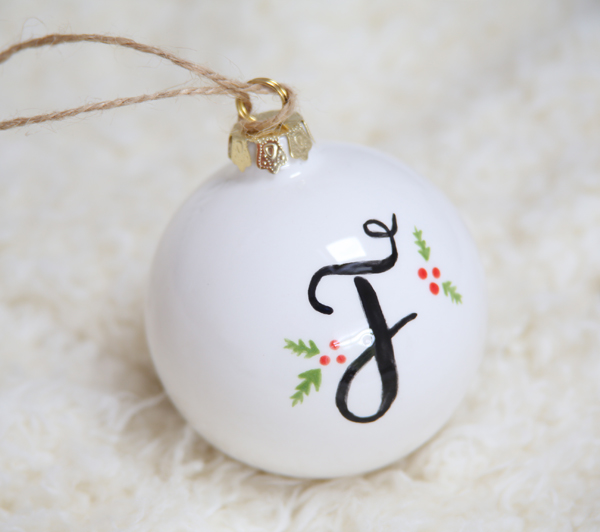 You can letter a name or an initial and choose to decorate with holly and berries, or leave it simple with just your beautiful hand lettering
FAQs
What are my transport/parking options for getting to and from the event?
There are several ways to get to Zebra Ceramics.
Public transport:
If you're taking the Nothern Line, you can get out at East Finchley station and hop on the 102 bus, for 10 minutes, getting out at the Rosebery Road stop.

If you're taking the Piccadilly Line, you can get out at Wood Green station and get on the 184 bus, for 7 minutes, getting out at the Victoria Road stop.

You may want to use the City Mapper app, Google Maps or the TFL journey planner to plan your journey more specifically

Driving:
You may be able to find on-street parking near Zebra Ceramics, for more advice about this, you can call Zebra ceramics on: 0208 442 1314
What's the refund policy?
Unfortunately we can't offer refunds if you are no longer able to attend the workshop or change your mind about attending.
What will I be able to keep?
All of your class hand outs and the lettering exercises you complete in class, plus your Christmas bauble (which you'll be able to collect 10 days after the class.)
I've still got a question about the workshop, who can I contact?
Email Shoshy at: shoshana.bratton@gmail.com