Event Information
Refund policy
Contact the organizer to request a refund.
Eventbrite's fee is nonrefundable.
Learn the Persian language and immerse in the culture of poetry and literature.
About this event
This a Farsi language course for beginners.
Lessons take place online and are hourly group classes, held once a week for a duration of 3 terms. Each term runs for 12-13 weeks and consists of Autumn, Spring and Summer.
Our terms usually start in September, January and May, so when you enrol, you'll be starting at the beginning of the new term.
This course focuses on the Farsi language and will delve into the Farsi vocabulary and basic grammar. It will equip students with a good foundation of the most common vocabulary, enabling them to go through daily life, navigate a variety of situations, and have basic conversations.
Students will be learning how to read, write and speak Farsi and gain a comprehensive understanding of the basics, including masculine and feminine words, word and sentence formation, how to use and form pronouns, verb patterns and tenses, adjectives, and plurals.
You'll learn how to ask questions, use common greetings, talk about your family and introduce yourself. You'll also learn essentials such as using numbers, telling the time, and setting dates.
Syllabus Outline
Persian alphabet
Greet and introduce yourself and others
Talk about your family
Ask and give personal information
Say where you live
Say where you come from
Talk about your nationality
Talk about jobs
Use expressions of time (hours, days and months)
Talk about hobbies and leisure time
Describe your likes and dislikes
Talk about Seasons and colours
Shopping
Talk about past activities
Use numbers 0-100
Telling time, age, etc.
Ask and give directions
Different types of weather
Talk about what you are doing now
Grammar taught at this level:
How to make phrases in Persian
Word order
Past simple
Use of Prepositions and conjunctions
Use of adverb of time
Past continues
Present
Duration: Each level consists of 36 - 39 weeks, split over 3 terms through the year.
Progression: Level 2
Assessments
Students will be informally assessed at the end of the course.
Course Delivery
This course is currently being run online. Students are required to turn on their camera whilst participating.
Course Resources
Students will receive all relevant course details before the course starts.
Our classes are open to both adults and children aged 9+. The current term will run for 12 weeks on the following dates . Once the group is fully booked, we will open a new class and inform you of the dates.
Adults: Fridays 5pm
Children: Wednesdays 5pm
Starting: Week beginning 9th May
Fee: £120
PLEASE NOTE: Term 2, 3 and Year 2 options are for existing students only.
Special Discounts
We offer special discounts for family members from the same household. Please use the following promo codes at checkout for the number of people you will be signing up for.
2 family members 10% off - Use Code AIMTWO
3 family members 15% off - Use Code AIMTHREE
4+ family members 20% off - Use Code AIMFOUR
For enquiries, please call +44 7932 071626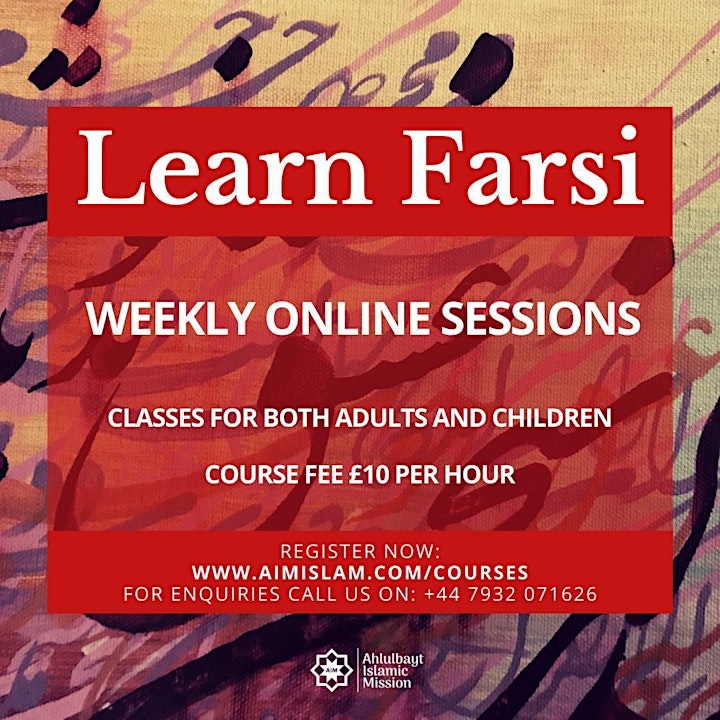 Location
Refund policy
Contact the organizer to request a refund.
Eventbrite's fee is nonrefundable.