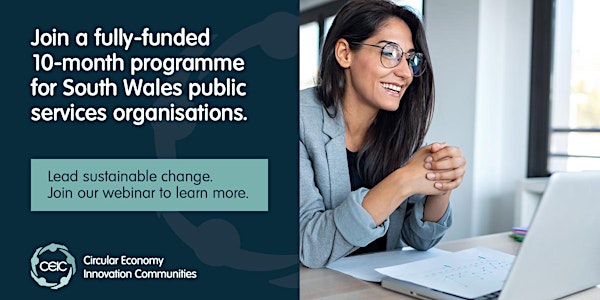 Learn How to Lead Sustainable Change | Webinar for Public Service Workers
CEIC is a 10 month fully-funded programme to support circular-economy change and innovation systems in Welsh Public Service organisations.
About this event
Learn How to Lead Sustainable Change
Join a fully-funded programme for public service workers.
Public service leaders in Wales have been set ambitious sustainability targets as part of the government's Net Zero commitments & the Well-being of Future Generations Act.
But there are a few challenges that stand in the way:
Lacking the innovation techniques and inspiration you need to find new solutions
Struggling to change the behaviour and thinking of stakeholders and team members
Not being able to share ideas and learnings with other leaders who are working towards the same goals
We're offering a fully-funded, 10-month programme that will give you the skills, confidence and connections to lead sustainable change in your organisation. It will help you:
LEARN - Build a toolkit of concepts, techniques and frameworks that will help you find new, customer-centric solutions to sustainability challenges
LEAD - Learn how to influence stakeholders and make a compelling case for sustainable change
CONNECT - Join a community of practice across South Wales that's working together to hit Net Zero and Well-being of Future Generations Act targets
Don't take our word for it. Here's what a few of our previous participants had to say…
"So much learning – I feel refreshed and inspired"
"It was so useful to work in partnership to solve problems"
"It was great to hear how other sectors are innovating to reduce their impact"
Learn more by signing up for our introductory webinar or visiting our website.