Learn to life model with //All The Young Nudes\\ in Dundee
Description
All The Young Nudes are delighted to welcome you to our third life model training workshop!

If you've ever fancied trying nude modelling, but you weren't sure what was needed, this workshop is for you. Our three hour session is suitable for beginners and those with little or no experience of life modelling, but we also welcome existing models to come along and brush up on their skills - it will be a lot of fun :)

After the success of our first two workshops in Edinburgh and Glasgow, we would love for you to join us for the third instalment at The Tin Roof Collective in Dundee. Thanks pals.
Our two model teachers have decades of modelling experience between them, working for tutored and untutored classes, workshops and photographers. They can be asked to do anything from 30 seconds to 54 hour poses (over several weeks!) Versatility as a model comes from artistic understanding; every different drawing situation requires a different emphasis on the types of poses needed.
In this workshop you will be both modelling and drawing, in two groups. You will soon realise that being 'nude' (for art) is, and feels, entirely different from being 'naked' (in your bedroom); it takes a matter if seconds before your focus shifts from your nudity, to holding your pose. It is such a freeing feeling to know that it is the uniqueness of your body and how you use it creatively, and not whether you look like an air-brushed model, that makes you exciting to draw.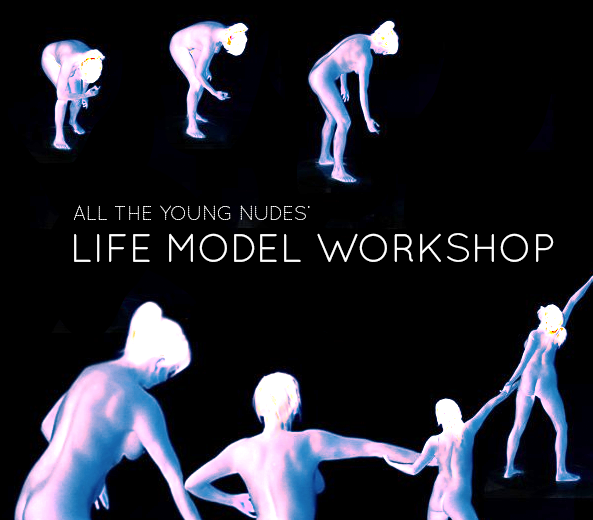 Topaz and Jill will teach you how to use your body to suit several different types of drawing. You will be paired up and experience what it's like to draw someone who is posing with your artistic needs in mind. Don't worry if you think you can't draw - a) You definitely can and b) It's the best way to learn art modelling! Jill will teach you life drawing techniques to suit each aspect of posing.


You will learn to experience your body as a gestural and dynamic form, full of movement and energy. you will learn how to think about the shapes OUTSIDE your body and how you create spaces around you which are interesting to draw; how to contrast open and closed shapes. This ties in with learning what dramatic and characterful potential the placement of your hands, feet, and head have! Combining all these aspects together will make you a pleasure to draw, as, having also drawn one another, you will be sympathetic to the needs of artists and understand what incredible potential your body has.
Some feedback from our previous workshops:
"All the little hints and tips you gave while posing yourself were great - where to look, what to think etc etc. biggest revelation for me was that yes, I could stay still for 20 mins! "
"I had a fantastic time at the workshop on Wednesday and would definitely recommend it to anyone I know wanting to get into life modeling if you have another session. I loved the way the session was planned out. I think it made everyone feel so much more at ease doing it in a big group for the first time. You and Jill both gave some very good tips on modelling and drawing which I think really helped us begin to think about the way our body looks to the artist."

If you take up work as a model, you will see infinite representations of yourself, see the beauty in the fact that everyone sees you differently; and knowing that your hard work and understanding inspired someone is a pleasure and a privilege.
We are happy to be able to provide all drawing materials on the night, however please do bring along a robe and slippers.
We look forward to meeting and working with you!
All The Young Nudes
xx
P.S. Here's a little FAQ with Topaz, who will be leading the workshop:
- How busy are the workshops?
We will have enough for a lot of diversity of bodies and drawings in the group, and small enough to feel cosy and give myself and Jill the opportunity for closer tuition. At the last workshop there was an equal split of male/female models, which is ideal.
-Will I really have to be entirely naked in front of the whole group!? But I'm too young/old/fat/thin/tall/short etc etc etc!
Answer: yes! Any self-respecting artist will tell you that life drawing is primarily about looking, and it really doesn't matter who is behind what you're observing (i.e. young/old/short/tall/etc etc etc). The only thing that matters about the who is that they are totally switched on and engaged with the artistic process of modelling. At our last workshops we had all sorts; younger and older; male and female, in a pretty even balance. This is exactly what a good 'bank' of models should consist of; life in all its forms. Otherwise it wouldn't be life drawing- it would be 'young whippersnapper drawing', or something like that. Younger/thinner really, really doesn't mean better. At no point in time is it ever an 'appraisal' of your body. It seems that certain folks have the knack.. and to find out if it's something for you, and that you enjoy, ye gotta give it a go, eh! One thing I will say is that it helps to mentally prepare yourself to almost dance... regardless of how comfortable you are nude, life modelling a kind of performance art. I hope to teach everyone there how to be not only comfortable nude, and how to think methodically about the shapes they make, but also about how to occupy their body in a more fluid, flexible, relaxed way. THIS is what leads to interesting shapes. Otherwise, models can be a little wooden.
- But I can't draw!
Jill will soon put an end to those thoughts.. I really do think that anyone can draw, once they put their apprehensions and fears away. It is these that prevent folks from drawing, and lead to awkward drawings. Jill will loosen you up and I promise that you will forget, by the end of the evening, that you even thought you couldn't draw!
- What actually happens at the workshop?
I start the group off with a demo of short poses - good v.s. bad short poses. Jill does a drawing demonstration, showing everyone how it is much easier to produce an energetic drawing from an energetic pose, than an energetic drawing from a dull pose. The group is then split in two, and half the group follow the drawing technique Jill just demonstrated while the other half experience what it's like to construct first a dull pose, then a dynamic pose, and feel the difference between them. These, and all the other poses, are held for the full length of time that you would hold them in a class. This means that you experience what your body is capable of, even when you are being ambitious... and equally, experience what it is not capable of... or what you THINK you can achieve but your body thinks it can't ... and all the variations of this.
This sort of drawing/posing format continues throughout the workshop, looking at the different aspects of the body, and pose lengths increase. For example, we look at negative spaces in conjunction with open and closed shapes, we look at the placement of head, hands and feet and how this lends character to a pose, we look at how you can use the space around you and props to pose with.. Each time there is a swap between the drawing/modelling group, you get a chance to look at drawings of yourself. Which is great because you remember constructing the pose, and you can see for yourself how your artist responded to it. Towards the end of the session, you swap camera-capable phones with a partner, and construct poses which are a synthesis of all you have learned, while your partner photographs you from all around. This gives you a sense of how your pose looks from all angles, as one mistake models often make is to pose only to a certain section of the group, though you might have folks behind you, who for example, might be left to draw... the back of a chair.. or the back of your head... (As well as them being safely on your own camera.)
Jill will give different demos of drawing techniques each time, and I will pose alongside the modelling group, chatting to you, telling you about the general experience of the model, and getting you to talk to the rest of the group about how you are experiencing it whilst you are in the pose. This cultivated a really supportive and relaxed environment, where there was an openness to ask any questions you might possibly have without any qualms whatsoever.
If you have any other questions, please feel free to email topaz@atyn.co.uk xx