Description
Come and see Sandy Jadeja at The Best You EXPO!
Sandy Jadeja has been involved with the financial markets for over 32 years. He was voted in the Top 50 most influential traders during 2011 as well as having received several awards from 2003 – 2015 for Best Education. Having featured regularly on CNBC, Bloomberg, CNN and Reuters Mr. Jadeja has provided key turning points for both the Financial Markets as well as the property cycles.
He had been elected several times to provide his unique insights and keynote speeches for international finance ministers and Government agencies where he forecasted major reversals in the financial markets as well as the property sector. Recently Mr. Jadeja had warned in advance on TV of the "exact dates" for financial turmoil which led to major financial collapses in 1987, 1999, 2007 and 2015.
Currently Mr. Jadeja is the Chief Market Strategist for leading international financial platform providers that caters for beginners as well as professional investors and traders by providing specialist education not found elsewhere.
Sandy Jadeja will be the main stage speaker at The Best You Expo 2018 with the talk title of 'Learn How To Achieve £1,000 – £8,000+ Cash Flow Per Month With This Simple Investing Technique You Can Learn in 30 Minutes'
Sandy Jadeja Main Stage ticket £ 20
--- entry to Sandy Jadeja's Main Stage Speaking(Friday 16th Feb 2018 12:00-13:00)
--- A ticket is needed for entry The Best You Expo. We offer free ticket till 15th Jan. Please select both on the ticketing page.
VIP Gold ticket
--- entry to The Best You Expo 2018 (Friday 16th Feb 2018 10:00-18:00)
--- entry to all main stage speakers
--- access to VIP lounge throughout the Expo
--- goody bag worth £150
--- complimentary refreshments
--- free cloakroom
--- Best You merchandise
--- access to all video recordings of The Best You EXPO UK and USA
--- front queue pass at all book signings and much more.
The Best You EXPO is the leading personal and professional development exhibition in Europe, a place to meet anyone and everyone that is passionate in improving their lives.
The Best You Expo 2018 takes place in February at its brand-new location of London Olympia . This one-of-a-kind event gathers those passionate about living better lives, creating a better world, gaining greater mindfulness and meaning in our modern age.
The Expo explores topics like wealth, health, entrepreneurship, confidence, aging, mindfulness practices, phobia cures, passionate living, female empowerment, breaking self-limiting beliefs, divorce coaching, and much, much more.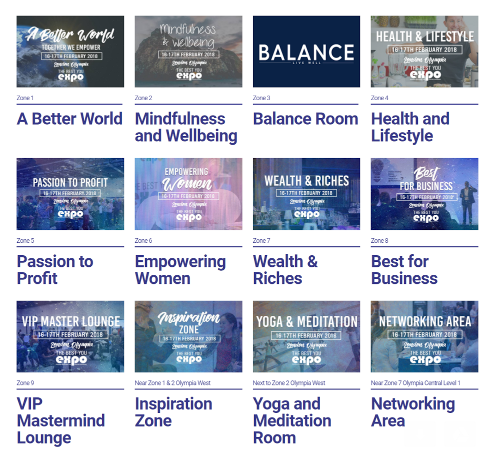 Speakers come from a variety of sectors, including business, finance, health, neuroscience and new age philosophies, as well as entrepreneurs and leading CEOs. Attendees come with a like-minded purpose: to discover purpose, meaning, better well-being, health, self-improvement and career growth.
See our Inspirational Speakers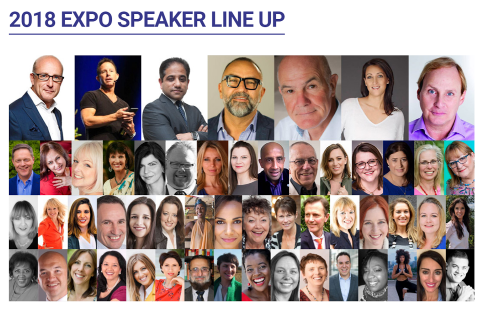 There are many opportunities to connect with teachers, coaches, experts, attendees, exhibitors, explore new things and promote your product and services at our expos!
Expect a high-energy event and a dedicated platform to inspire people on their path towards realizing their greatest potential. This is an extraordinary, 2-day event where people come together to learn from the best teachers, to explore transformational practices and to become a better version of themselves.
We can't wait to see you there!