Sales Have Ended
Registrations are closed
Sorry the registration period has ended. Please email lookstalbans@gmail.com to see if there are any spare tickets before 18:30 on the day. Thank you
Sales Have Ended
Registrations are closed
Sorry the registration period has ended. Please email lookstalbans@gmail.com to see if there are any spare tickets before 18:30 on the day. Thank you
An interactive online workshop Alina will present some examples from home & abroad providing inspiration on how we can move forward together
About this event
To give the event its full title. "Learning from the past and looking to the future: how can St Albans adapt to rapidly changing times?"
Look! St Albans is delighted to invite you to this second event in our Placemaking series.
Monday 9th November 7-15- to 8-30pm via Zoom
In this interactive online workshop Alina will present some examples from home and abroad that provide some inspiration for how we can move forward positively together.
The past six months have accelerated many trends that were underway already including online shopping and working from home.
Hertfordshire has a rich tradition of experimentation from our Garden Cities and new towns, when designing for the health of residents was a top priority
We have also seen many experiments taking place across the country, with novel ideas that would have taken years coming together in a few weeks
And internationally what can we learn from smaller cities - especially those in colder climates that maintain outdoor living in all four seasons?
In the workshop we will consider a number of topics including:
How we get around - taking forward experiments with road closures, bike and scooter hires and deliveries.
Can tourism in St Albans be better, not just safer?
A brighter future for neighbourhood shopping streets?
How do we adapt High Streets for a stronger mix of leisure, culture, wellbeing and work spaces?
What do we want from our homes now that we have spent so much time in them?
Dr Alina Congreve: has worked as a lecturer and principal lecturer at several universities including LSE, Reading and Hertfordshire. At Hertfordshire she established and led the MSc in Sustainable Planning. In 2018-19 she worked as a programme manager at Climate KIC, running postgraduate and professional courses developing solutions to climate change challenges. She has worked at Centre for Cities, contributing to their policy and advocacy work on planning and housing. She has also worked for the UK Green Building Council, bringing stakeholders together to better align the green buildings and city devolution agendas. In her spare time she has a strong interest in the arts and culture and is a trustee of the Harlow Art Trust. She holds an MSc in Conservation from UCL and PhD in housing and planning from King's College London.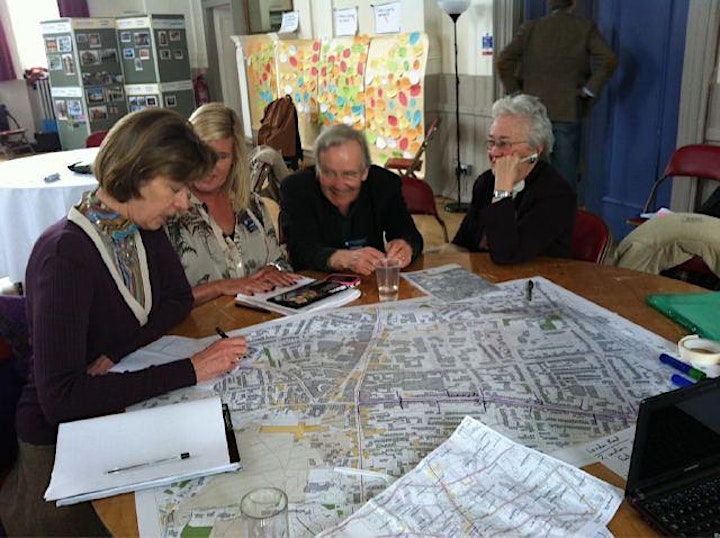 Organiser of Learning from the past looking to the future can we adapt to changing times
'Look! St Albans 'Our Community Voice on Design' is a unique inclusive community group that actively promotes community engagement on significant developments in central St Albans. We aim to take a collaborative approach to leave a legacy for the future that residents and developers can all be proud of. Look! St Albans remains impartial, expressing no design opinions of its own, but facilitates a design charrette process to incorporate all opinions.