Description
Learning Lunch seminars are an opportunity to hear speakers from University of Surrey and across the UK, showcase their educational research. These lunches are open to all University of Surrey staff.
Places are limited and allocated on a first come first served basis.

Please email Jennifer Rogers j.rogers@surrey.ac.uk after registering if you have any special dietary requirements.


---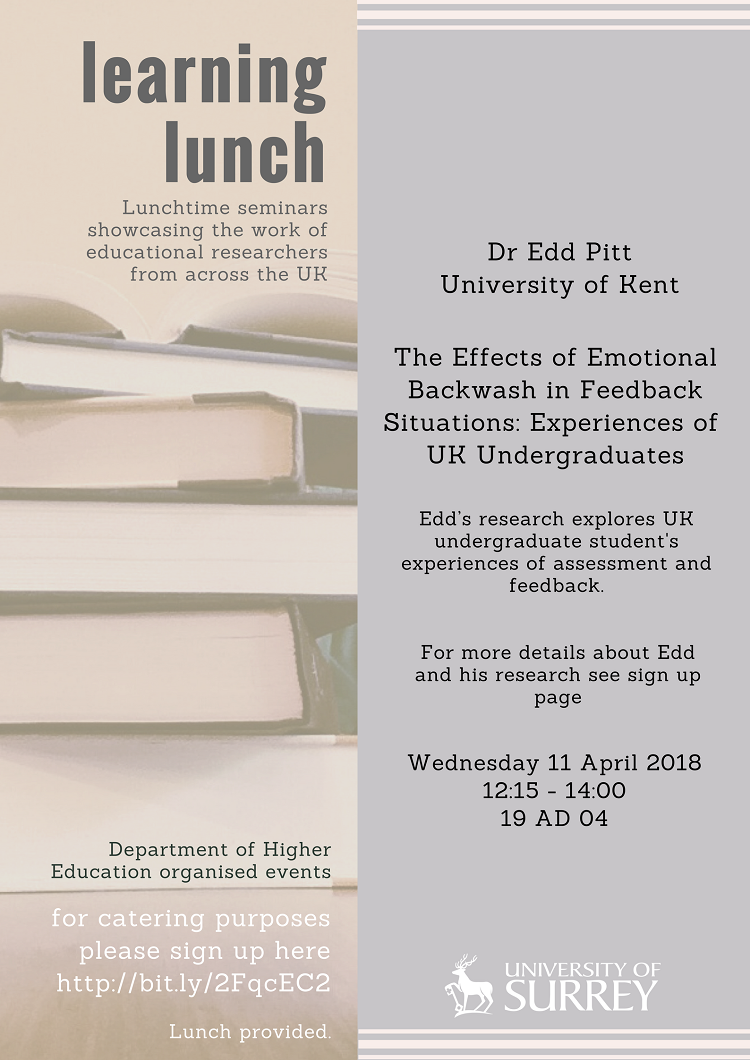 ---

Wednesday 11 April 2018

12:15 - Lunch served
12:30 - Seminar starts
13:20 - Questions & follow up discussion
The Effects of Emotional Backwash in Feedback Situations: Experiences of UK Undergraduates
with Dr Edd Pitt, University of Kent.
This seminar will discuss research from two studies which explore UK undergraduate student's experiences of assessment and feedback. Study one is an in-depth interview study with 14 final year undergraduates who self-select examples of what they consider to be 'good' and 'bad' work and reflect on their perceptions of the feedback. Findings suggest that emotional reactions play a significant part in determining how students act on the feedback they receive and the concept of 'emotional backwash' is introduced. Following participant generated drawings and follow up interviews the data and analysis in study two reveals a conceptual six-stage cyclical assessment and feedback model. The model indicates a multifaceted interpretation of the student experience suggesting that a student's achievement outcome, relative to their pre-determined expectation level, regulates their emotional reaction and subsequent feedback utilisation. The seminar will discuss how the grade outcome is an extremely powerful construct which seems to foster both adaptive and maladaptive emotions and subsequent assessment-related behaviours. In conclusion, it suggests that understanding students' individual needs through fostering lecturer and student relationships, alongside dialogic feedback opportunities, may help to improve a student's propensity to utilise the feedback received.
Dr Edd Pitt is Programme Director for the Post Graduate Certificate in Higher Education and Lecturer in Higher Education and Academic Practice at the University of Kent, UK. His principle research field is Assessment and Feedback with a particular focus upon student's emotional processing during feedback situations.


---