Learning Lunch 11 September 2019 with Carol Taylor
Description
Learning Lunch seminars are an opportunity to hear speakers from University of Surrey and across the UK, showcase their educational research. These lunches are open to all University of Surrey staff.
Places are limited and allocated on a first come first served basis.
Kindly note this event is suitable for current University of Surrey staff only.

Please email dhe@surrey.ac.uk after registering if you have any special dietary requirements.
---
Wednesday 11 September 2019
LTB
12:15 - Lunch served
12:30 - Seminar starts
Diffracting the Curriculum in Higher Education: New Material Feminism and the Politics of Knowledge
Carol Taylor
Department of Education, University of Bath
Abstract
Feminist scholarship has for a long time cast a critical gaze on the politics of knowledge. In this presentation, I explore what new material feminist theory offers in terms of re-thinking the curriculum in higher education. Those advocating a new material feminist approach begin with the view that we cannot separate the materiality of the world from our knowledge of it. Instead of a focus on the individual and knowledge as a cognitive process, the focus shifts to how meaning-making occurs through a 'confederacy' of material practices which embrace all manner of bodies, objects, and things (Taylor, 2013; Taylor and Ivinson, 2013). I draw on the work of Karen Barad (2007) and Jane Bennett (2010) to trace the implications of new material feminism for higher education curricula to consider what happens when we take matter seriously within flattened, non-hierarchical modes of knowledge production. Using empirical evidence from an undergraduate module in a UK university, the discussion considers curriculum as a multiple enactment of knowledge-ings, as a means of reworking student-staff relations, as a space for affective pedagogies, and a means for entanglement of human and non-human agencies. The more ecological perspective suggested by new material feminism provides a counterpoint to a neoliberal, positivist reliance on outcomes, measurements and standardization and opens up provocative ways for rethinking the ethics of higher education.
Biography
I am Professor of Higher Education and Gender in the Department of Education at the University of Bath where I lead the Learning, Pedagogy and Diversity Research cluster. My research focuses on the entangled relations of knowledge-power-gender-space-ethics in higher education and utilizes feminist, new materialist and posthumanist theories and methodologies. I have a keen interest in using trans- and interdisciplinary approaches to explore gendered inequalities, spatial practices, and staff and students' participation in a range of higher educational sites. I am co-editor of the journal Gender and Education, and on the Editorial Boards of Teaching in Higher Education and Critical Studies in Teaching and Learning. My latest books are Taylor, C. A. and Bayley, A. (Eds.) (2019) Posthumanism and Higher Education: Reimagining Pedagogy, Practice and Research. London: Palgrave Macmillan, and Taylor, C. A., Abbas, A. and Amade-Escot, C. (Eds.) (2019) Gender in Learning and Teaching: Feminist Dialogues across International Boundaries. London: Routledge. My work is widely published in international journals.
---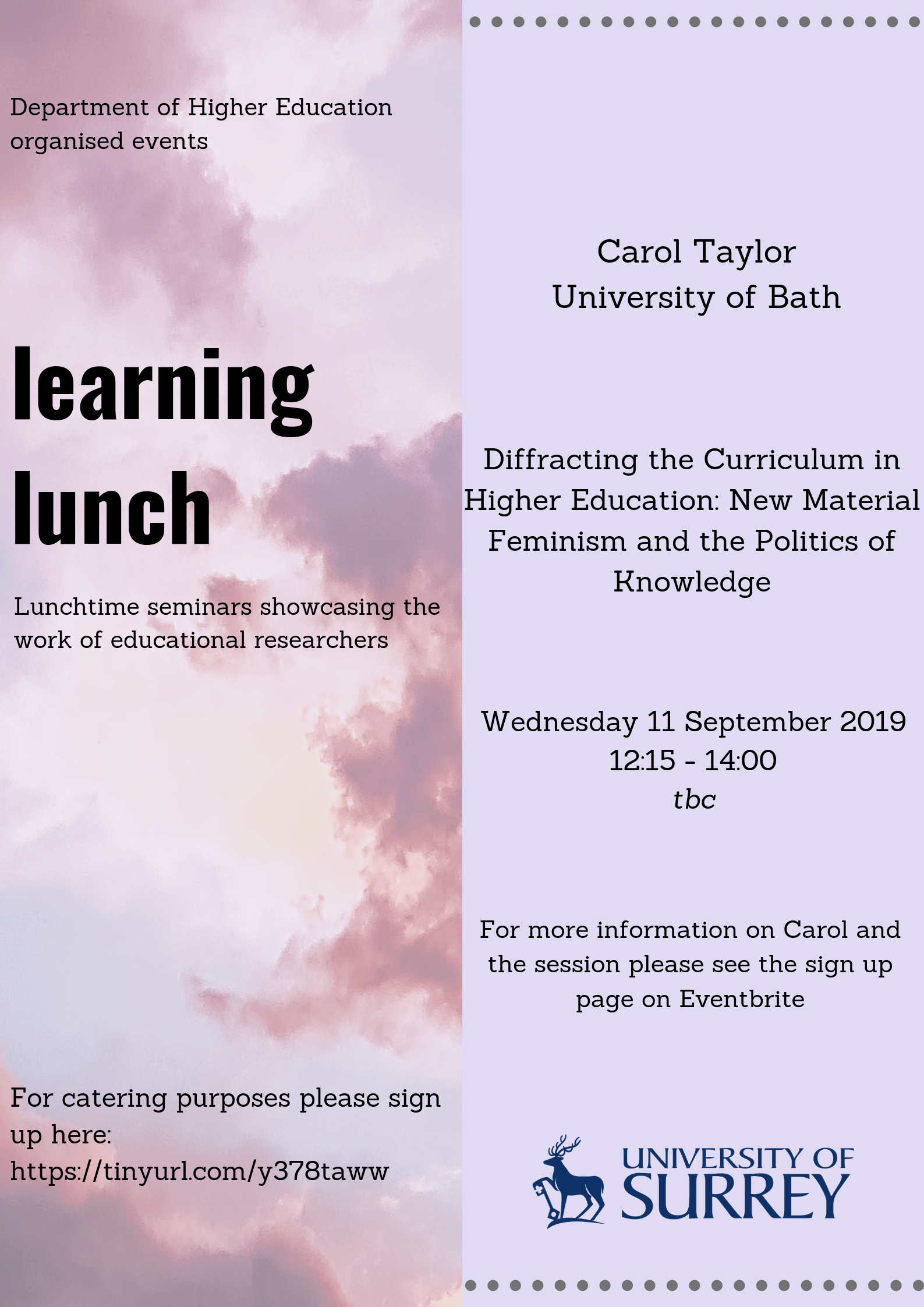 ---