Description
Learning Lunch seminars are an opportunity to hear external speakers from across the UK, showcase their educational research. These lunches are open to all University of Surrey staff.
A buffet lunch will be served 15 minutes before the talk is due to start.
Places are limited and allocated on a first come first served basis.


---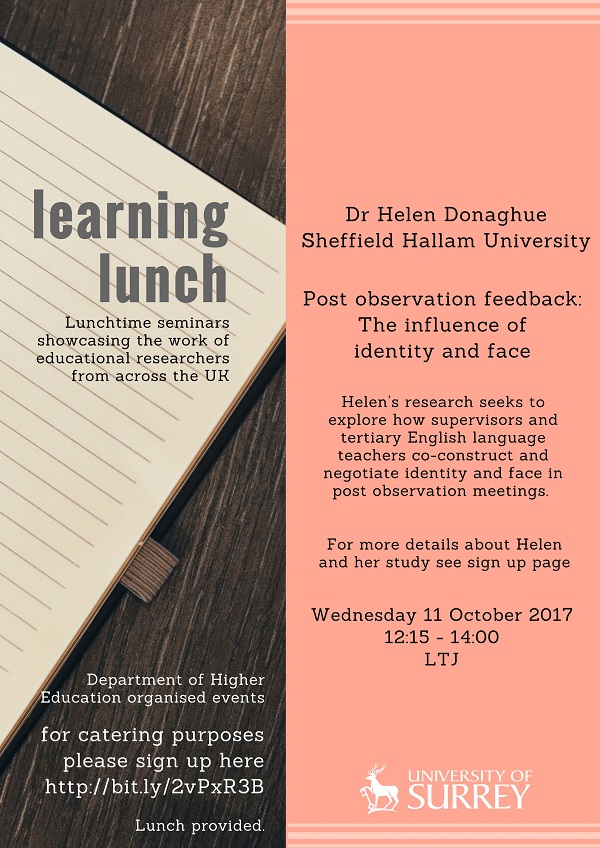 ---

Wednesday 11 October 2017
LTJ
12:15 - Lunch served
12:30 - Talk starts
13:30 - 30 minute follow up discussion
Post observation feedback: The influence of identity and face
Helen Donaghue
There is an established body of literature within the area of institutional interaction looking at how identity influences interaction (e.g. Benwell and Stokoe, 2006, Bucholtz and Hall, 2005) and an emerging plea for conceptualising face as a concern for identity (Spencer-Oatey, 2007, Joseph, 2013). However, in the study of post observation feedback although some attention has been given to face (e.g. Copland, 2011), little or none has been paid to identity.
This talk will report on a study which used a linguistic ethnography framework to investigate how supervisors and tertiary English language teachers co-construct and negotiate identity and face in post observation meetings. Results suggest that feedback is a highly complex international activity, negotiated and co-jointly constituted, moment by moment, by two participants, i.e. the observed as well as observer, and is influenced by factors such as identity, face, power, relationships and context.
Helen Donaghue is a Senior Lecturer specialising in English language, based at Sheffield Hallam University. She has worked in Hungary and the UAE, and has experience in teacher training, support and professional development.


---