Description
Learning Lunch seminars are an opportunity to hear speakers from University of Surrey and across the UK, showcase their educational research. These lunches are open to all University of Surrey staff.
Places are limited and allocated on a first come first served basis.

Please email Jennifer Rogers j.rogers@surrey.ac.uk after registering if you have any special dietary requirements.
---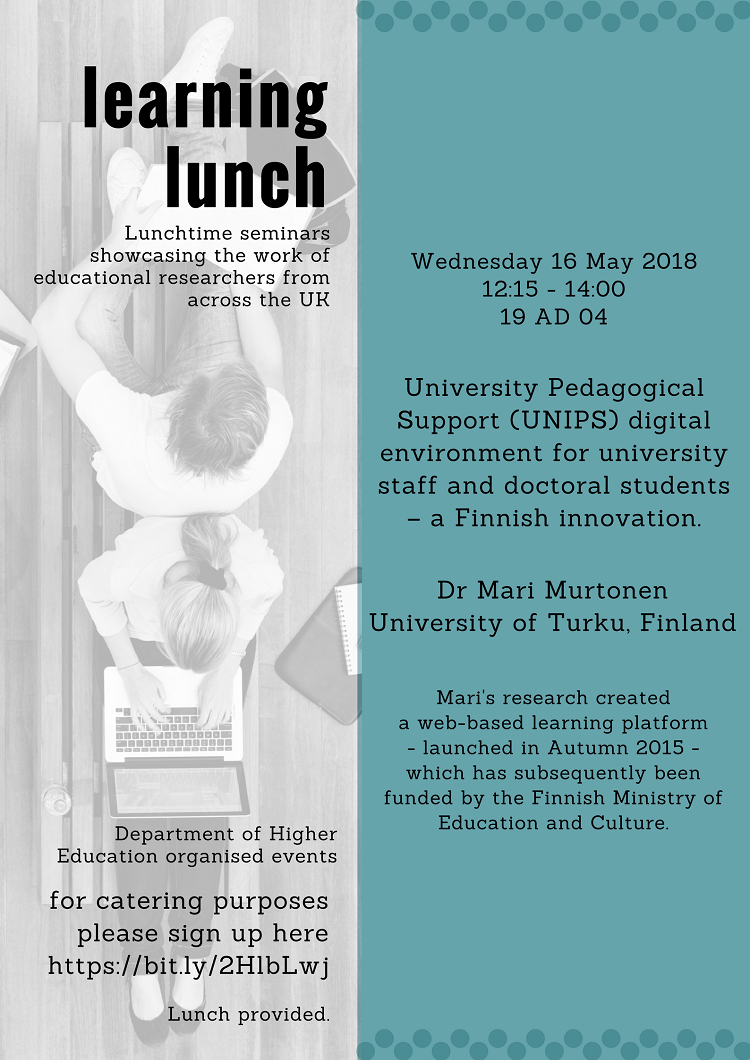 ---

Wednesday 16 May 2018

12:15 - Lunch served
12:30 - Seminar starts
13:20 - Questions & follow up discussion
University Pedagogical Support (UNIPS) digital environment for university staff and doctoral students – a Finnish innovation.
with Dr Mari Murtonen, University of Turku, Finland
Due to a high demand for learning and teaching staff development courses in Finnish universities, we were faced with the problem of not being able to offer university pedagogy courses for everyone who wanted to study them. Additionally, we wanted to seek ways to improve our existing teaching. As a solution, we created a web-based learning platform called UNIPS (University Pedagogical Support). The platform allows us to reach a wider audience and offer courses more conveniently to our teaching staff. Since the first version of the platform was released in Autumn 2015 at the University of Turku (the environment was called University of Turku Pedagogical support, UTUPS), available modules have been completed cumulatively over 300 times. We propose that a learning environment like UNIPS can significantly increase the flexibility and scale of courses that a university can offer. The UNIPS project has been funded by the Finnish Ministry of Education and Culture during 2017-2019 and the intent is to create a platform in cooperation with 8 Finnish universities, based on the previous UTUPS platform developed at the University of Turku. I will introduce the UNIPS environment in my presentation by analysing the pedagogical principles involved and present the actual environment.
Dr Mari Murtonen completed her PhD in Education at the University of Turku in 2005. Her areas of expertise include learning and teaching in different higher education environments, development of scientific and methodological thinking, belief systems in learning, and educational theory. She has been the Editor-in-Chief of the Journal of University Pedagogy (in Finnish), and she currently works as the leader of the UNIPS digital learning solution project 2017-2019. She is also an editorial board member of the Educational Research Review journal. She has extensive experience of university level curriculum planning, organisation of educational programmes, and teaching in traditional and digital environments.
---