Description
Learning Lunch seminars are an opportunity to hear speakers from University of Surrey and across the UK, showcase their educational research. These lunches are open to all University of Surrey staff.
Places are limited and allocated on a first come first served basis.

Please email Jennifer Rogers j.rogers@surrey.ac.uk after registering if you have any special dietary requirements.


---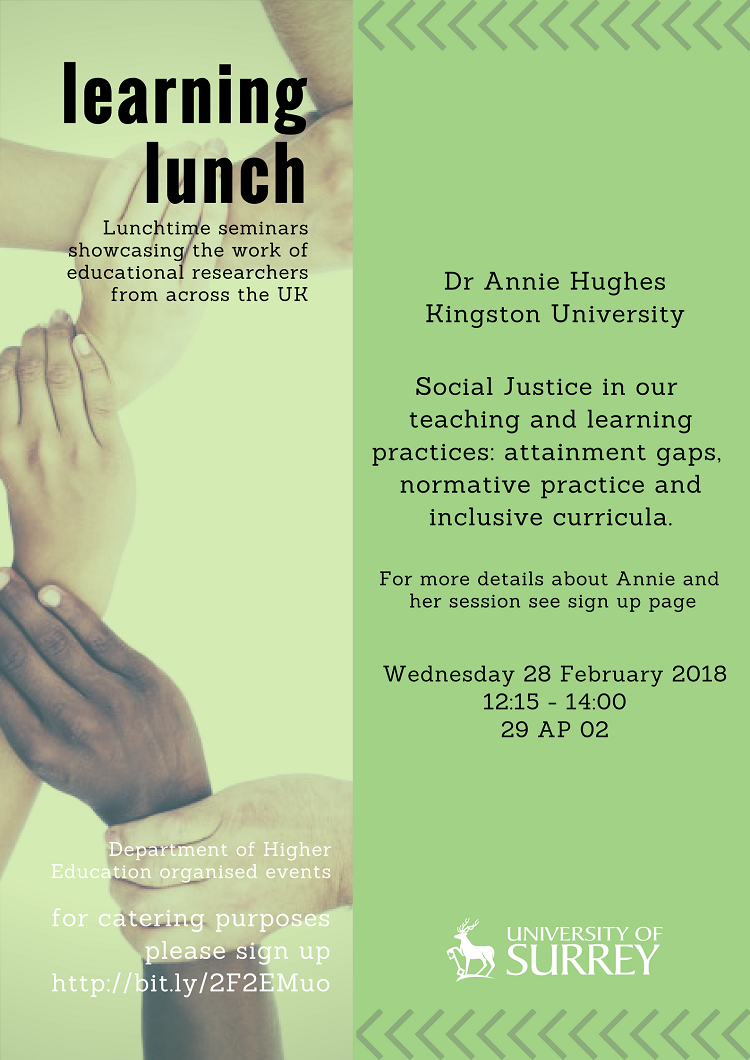 ---

Wednesday 28 February 2018

12:15 - Lunch served
12:30 - Seminar starts
13:20 - Questions & follow up discussion
Social Justice in our teaching and learning practices: attainment gaps, normative practice and inclusive curricula.
with Dr Annie Hughes, University of Kingston.
The Higher Education sector is recognising the need to move beyond a focus on equality of access to address equality of educational outcomes across the diversity of our student body. Persistent differentials in educational attainment have been identified across the sector with a set of causes that are clearly complex in their composition. This seminar argues that these differentials need to be addressed, in part, through a critical reflection of our academic cultures and practices. It presents evidence for multiple differentiated outcomes and explores the role of inclusive approaches to learning and teaching to improve the educational outcomes for all student groups. Kingston University's Inclusive Curriculum Framework is presented and discussed as a mechanism for guiding and supporting institutions to embed the key principles of inclusivity into their educational mission and practice.
Dr Annie Hughes completed her Ph.D. in Human Geography at the University of Bristol. She joined Kingston University in 1995 as a lecturer in Human Geography. Since then she has shared her student-centred approach to learning and teaching through her roles as Director of Geography programmes (2005-2015), School Senior Tutor (2009-2015) and School Director for Learning and Teaching (2015-2016) where she was responsible for disciplines as diverse as Human Geography to Civil Engineering. Annie's passion is ensuring an equality of opportunity for all students and, in particular, that diversity and inclusion are recognised as central measures of quality in academic teaching. Her commitment to an inclusive approach in Higher Education led her to collaborate with the Equality, Diversity and Inclusion Unit at Kingston University to further develop an Inclusive Curriculum Framework which has been adopted by her University as an institutional curriculum design tool. Her work has had a significant impact on the educational mission of her institution and the sector more broadly. The Framework was awarded the Guardian Award for Teaching Excellence in 2017 and will be disseminated in six other Higher education institutions in the UK as part of a successful HEFCE catalyst bid led by Nona McDuff. Annie is currently working on a HEFCE-funded project, led by Professor Carol Evans from the University of Southampton in conjunction with Dr Naomi Winstone from the University of Surrey entitled Maximising student success through self-regulation. Annie's research has been supported by Kingston University, as well as the HEA, HEFCE, and the ESRC.


---