Description
Learning Lunch seminars are an opportunity to hear external speakers from across the UK, showcase their educational research. These lunches are open to all University of Surrey staff.
Places are limited and allocated on a first come first served basis.


---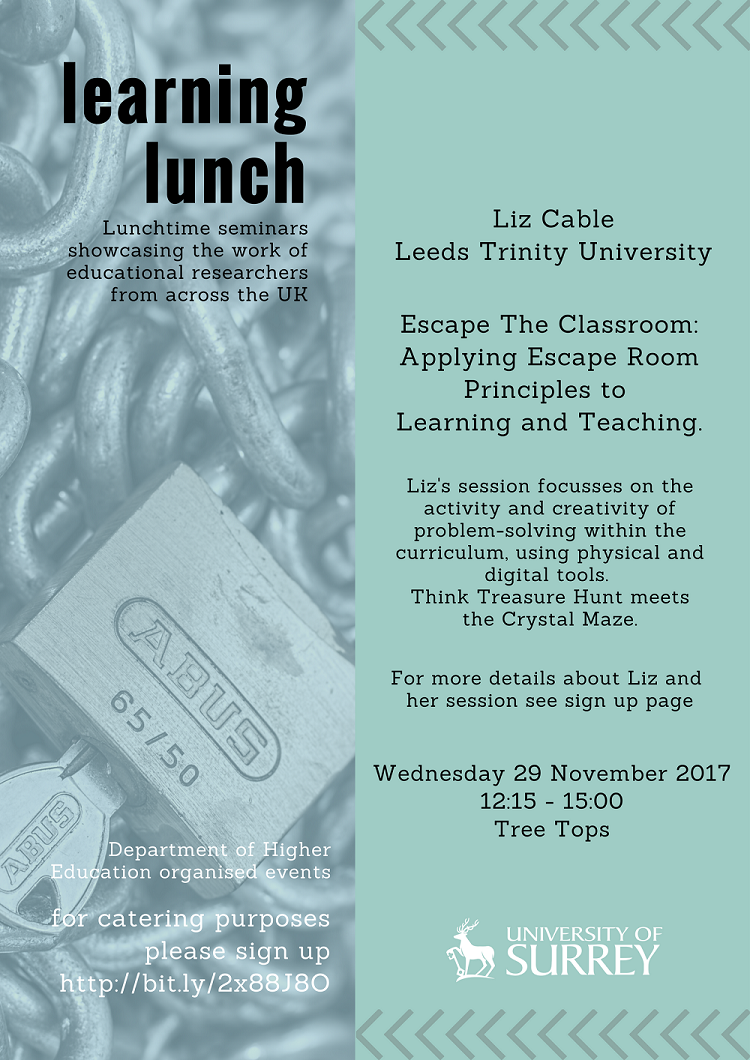 ---

Wednesday 29 November 2017

12:00 - Escape Room Activity
13:00 - Seminar Starts
13:45 - Follow Up Presentation
Escape The Classroom: Applying Escape Room Principals to Learning and teaching.
Liz Cable
Escape Rooms are a fast-growing form of entertainment with venues popping up in towns and cities all over the UK – think University Challenge meets The Crystal Maze. This session is about using the engagement and activity of problem-solving within the curriculum, and the ways these activities can be created affordably and creatively using a mix of physical and digital tools. The main aim of the session is to engage, involve and inspire you with an educational experience that you can take away with you.
Liz Cable is Senior Lecturer in Social Media, Digital Narratives and Transmedia Production with a special interest in Game-based Learning and an Enterprise Educator. She runs the Escape Room Alliance, and has designed both commercial and educational escape games - notably locking 600 students at UCLAN in several rooms, and a Criminology game at Staffordshire University. Her students' won a JISC award for a murder-mystery induction game, Homicidium, developed during a project management module. Liz is interested in using escape rooms and similar puzzle hunt games for education, assessment centres, team-building, more recently for recruitment and informing students' module choices.


---