Description
Learning Lunch seminars are an opportunity to hear speakers from University of Surrey and across the UK, showcase their educational research. These lunches are open to all University of Surrey staff.
Places are limited and allocated on a first come first served basis.


---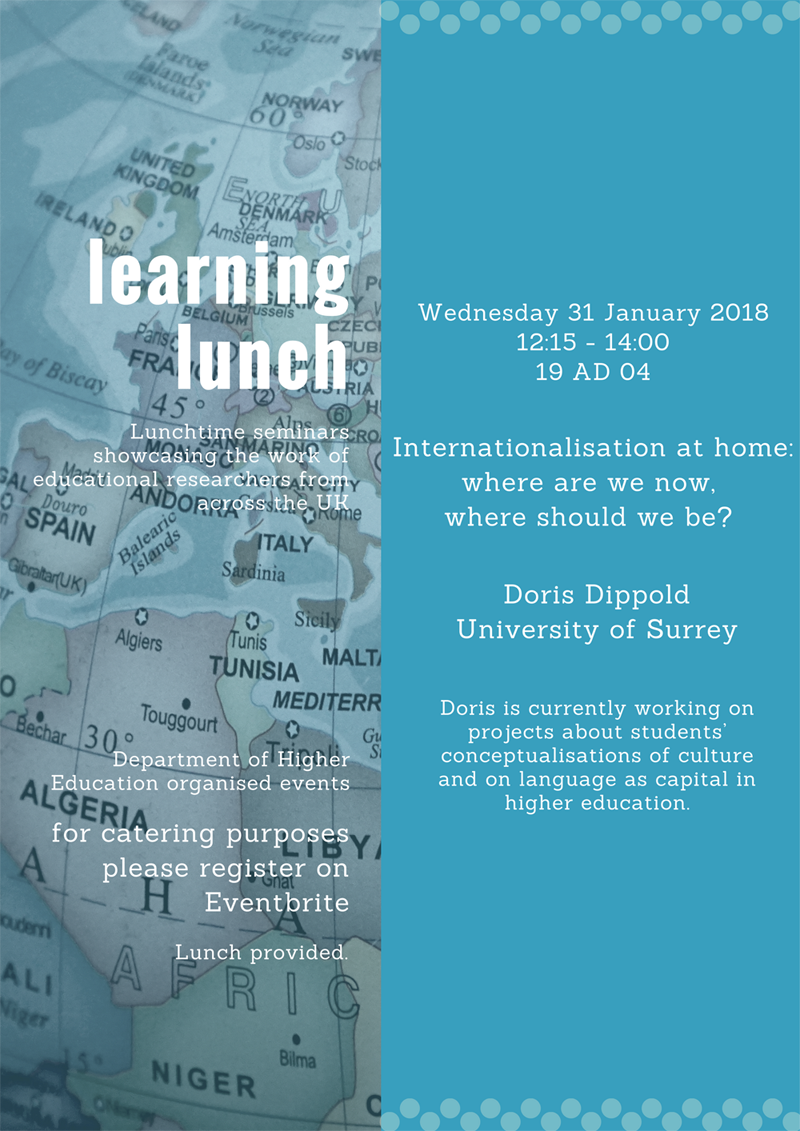 ---

Wednesday 31 January 2018

12:15 - Lunch served
12:30 - Seminar starts
13:20 - Questions & follow up discussion
Internationalisation at home: where are we now, where should we be?
with Doris Dippold.
Whilst internationalisation is a daily reality of the modern university, institutions' efforts in fostering internationalisation are generally targeted towards 'internationalisation abroad', including the establishment of research networks and the recruitment of international students. However, few universities sufficiently acknowledge the learning potential and the challenges arising from "internationalisation at home', which is concerned with "the embedding of international intercultural perspectives into local educational settings" (Turner & Robson 2008, p. 15). This presentation provides a summary of the current state of research relating to internationalisation at home, drawing on both higher education research on student and staff experiences in the internationalised university, and applied linguistics research on interaction in culturally and linguistically diverse higher education settings. It will also summarize the results of a recent research project on undergraduate students' conceptualisations of culture, which is of relevance for university policy and practice in learning and teaching.
Doris Dippold's main research interests are in policy and practice relating to internationalisation at home and in classroom interaction in linguistically and culturally diverse environment. Her monograph "Classroom Interaction: the internationalised Anglophone University" discusses both aspects. Doris is currently working on projects about students' conceptualisations of culture and on language as capital in higher education.

---