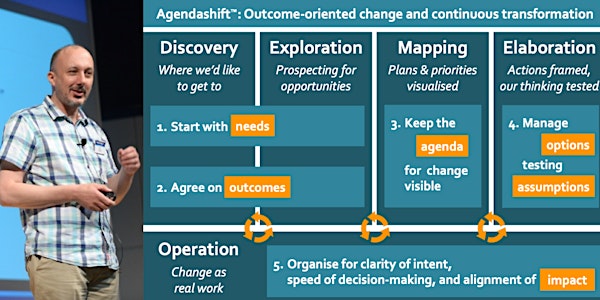 Learning the language of outcomes (16:00-18:00GMT, 11th & 12th December)
Event Information
Refund policy
Refunds up to 7 days before event
Eventbrite's fee is nonrefundable.
Description
Leading change in the 21st century? You need a 21st century engagement model:
Based not on the imposition of prescribed solutions but around authentic agreement on outcomes
Not linear and plan-based, but emergent, humane, and complexity-conscious
Not just one-off projects, but the beginning of new conversations and new kinds of conversation
Not proprietary, but open and framework-agnostic – built by and for a welcoming community of experienced practitioners working at the intersection of Lean, Agile, organisation development (OD), and strategy deployment
Welcome to Agendashift online: Learning the language of outcomes. This is an opportunity to experience Agendashift's Discovery and Exploration activities in the form of a highly immersive online workshop. It is for coaches, consultants, and managers wishing to develop their coaching and leadership skills in the areas of enquiry, facilitation, and change leadership.
The two sessions of this workshop will give you plenty of opportunity to practice the language of outcomes – conversations that explore needs and identify key outcomes – essential whenever and wherever you wish to encourage collaboration, self-organisation, and innovation. You will get practical hands-on experience with some exciting open source tools, including our kickoff exercise Celebration-5W and our signature coaching game, the Clean Language-inspired 15-minute FOTO. Additionally, the Agendashift delivery assessment is set as prework for all participants a week or so prior to the workshop.
This workshop is certified as a level 1 class by the Open Leadership Network.
Your facilitator will be Agendashift founder Mike Burrows. Mike is the author of Kanban from the Inside (2014) and Agendashift: Outcome-oriented change and continuous transformation (2018); his third book Right to Left: the digital leader's guide to Lean and Agile is due August 2019. Mike is known for Kanban's values model, the Featureban and Changeban games, and as a strong advocate for participatory and outcome-oriented approaches to change, transformation, and strategy. Prior to his consulting career, Mike was global development manager and Executive Director at a top tier investment bank, and CTO for an energy risk management startup.
More: About Agendashift | Resources | Slack | LinkedIn
Workshop overview

Session 1, 11th December, 16:00-18:00GMT: Discovery
Describing where we'd like to get to – exploring organisational context, objectives, obstacles, and outcomes using these Core exercises:

Session 2, 12th December, 18:00-20:00GMT: Exploration
The opportunity to practice skills acquired in Discovery, using for raw material an analysis of the Agendashift delivery assessment (an online survey distributed in advance as prework):

Time permitting, we will continue into Mapping with the "Option approaches mapping" exercise – its real name disguised for reasons that will become apparent!
---
Agendashift™ is copyright © 2015-2019 Positive Incline Ltd. All rights reserved. The Agendashift Online workshop description by Mike Burrows of Positive Incline Ltd is licensed under the Creative Commons Attribution-ShareAlike 4.0 International License. To view a copy of this license, visit https://creativecommons.org/licenses/by-sa/4.0/.

Date and time
Location
Refund policy
Refunds up to 7 days before event
Eventbrite's fee is nonrefundable.