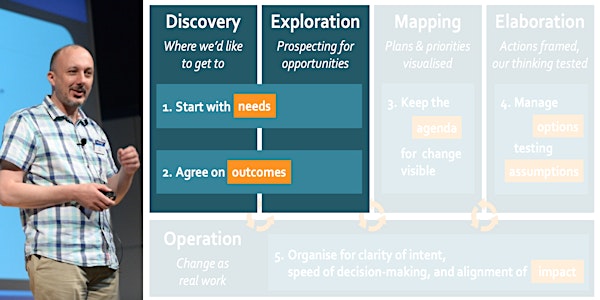 Learning the language of outcomes (two 2h sessions, 26th & 27th June)
Event Information
Refund policy
Refunds up to 7 days before event
Description
In brief: Two 2-hour online sessions on consecutive days covering the Discovery and Exploration modules of the Lean-Agile engagement model Agendashift (strapline: "Outcome-oriented change and continuous transformation"), certified as a level 1 class by the Open Leadership Network.
When: 2pm-4pm BST / 9am-11am ET, June 26th and 27th.
This online workshop is aimed at coaches, consultants, and managers wishing to:
Develop their coaching and leadership skills in the areas of enquiry, facilitation, and change leadership
Deepen their appreciation of the Lean-Agile landscape and complementary bodies of knowledge, in particular Clean Language and Cynefin
---
Who should attend?
This workshop is aimed at agents and leaders of organisational change – whether internal or external, specialist practitioner or sponsor. Whilst the majority of attendees have been coaches and consultants, a significant number have held managerial and business leadership roles.
As compared to a private Agendashift workshop, this public workshop is more focussed on skills than the unique needs of your organisation. You will however have ample opportunity to practice them with your particular context in mind and to understand how Agendashift can help you meet your organisation's needs in areas such as these:
Launching, refocusing, or reenergising continuous transformation in your organisation
Enhancing your organisation's internal coaching and change management capability
Embedding outcome-orientation and continuous transformation through leadership development
We are glad to offer generous discounts to employees of public sector, eductional, and non-profit organisations, also to participants of past Agendashift workhsops. Please get in touch for a discount code if this applies to you.
---
Overview
Session 1: Discovery
: Describing where we would like to get to
Exploring organisational context, objectives, obstacles, and outcomes
Celebration-5W and our Clean Language-inspired coaching game 15-minute FOTO
Plan on a page
Session 2: Exploration: Prospecting for opportunities
Debriefing your Agendashift delivery assessment (set as prework, sent out a week in advance)
Generating and organising outcomes
Recognising alternative approaches
Both sessions will give you plenty of opportunity to practice the language of outcomes – conversations that explore needs and identify key outcomes – essential whenever and wherever you wish to encourage collaboration, self-organisation, and innovation. You will also get practical hands-on experience with some exciting open source tools.
---
About us
Your facilitator will be Agendashift founder Mike Burrows. Mike is the author of Kanban from the Inside (2014) and Agendashift: Outcome-oriented change and continuous transformation (2018); his third book Right to Left: the digital leader's guide to Lean and Agile is due in this summer. Mike is known for Kanban's values model, the Featureban and Changeban games (just two popular items from a range of his open source contibutions), and as a strong advocate for participatory and outcome-oriented approaches to change, transformation, and strategy. Prior to his consulting career, Mike was global development manager and Executive Director at a top tier investment bank, and CTO for an energy risk management startup.
Date and time
Location
Refund policy
Refunds up to 7 days before event