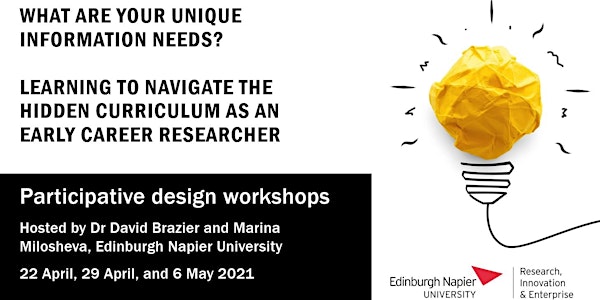 Learning to navigate the hidden curriculum as an early career researcher
Join us for a set of three online workshops that will help you develop your information management skills as an early career researcher.
About this event
Early career researchers and PhD students are faced with multiple formal and informal learning opportunities throughout their academic careers. While learning progress in formal learning is clearly signposted, and information to support learning is provided in a structured manner, informal learning is different.
Informal learning is self-directed, and information is not readily delivered, but is instead actively sought out by the learner in line with personal learning goals and desired personal development outcomes. It is therefore crucial that the learner is able to articulate their unique information needs, outline the success conditions for their informal learning, and fulfil their information needs via the identification and application of relevant information.
These three participative design workshops will provide researchers with the know-how to formulate, record, and act on their unique information needs in a supportive, collaborative, and flexible environment. Participants will be encouraged to focus on the personal development topics that they deem most important to them, and will work together to deploy creative learning strategies across the three workshops.
The three workshops will run on three consecutive Thursdays over April and May (22 April, 29 April, and 6 May) and will be conducted online over Microsoft Teams between 9 am and 1 pm.
It is strongly recommended that participants attend all three workshops in order to receive a comprehensive overview of participative design and the information needs journey.
Your Eventbrite ticket guarantees you a spot on all three workshops; we have implemented a single ticket check-out for ease of registration.
During the workshops, there will be an opportunity to participate in research exploring the effectiveness of participative design workshops in the context of information needs. Participants will be invited to provide feedback on the workshops and participate in this research by completing two brief questionnaires administered during the workshops. Please get in touch with us if you'd like to learn more about this research.
These workshops have been funded through Edinburgh Napier's Researcher Development Fund and map onto the personal development domains in the Vitae Researcher Development Framework (RDF). Please contact us if you require more information about the learning outcomes of these workshops and the Vitae RDF domains they address.
Following the workshops, researchers will have an enhanced understanding of information needs and participative design, and will be able to record and address their unique information needs (both individually and collaboratively). They will have developed an increased confidence in managing their informal learning and self-directed personal development.
These workshops are free and open to all PhD students and early career researchers at Edinburgh Napier University.
We have capacity to take up to 10 PhD students and early career researchers studying at other Scottish universities as well.
For more information, please email Dr David Brazier d.brazier@napier.ac.uk or Marina Milosheva M.Milosheva@napier.ac.uk