Leavers Link SW provides a networking platform for all Service Leavers, Veterans and their families.
About this event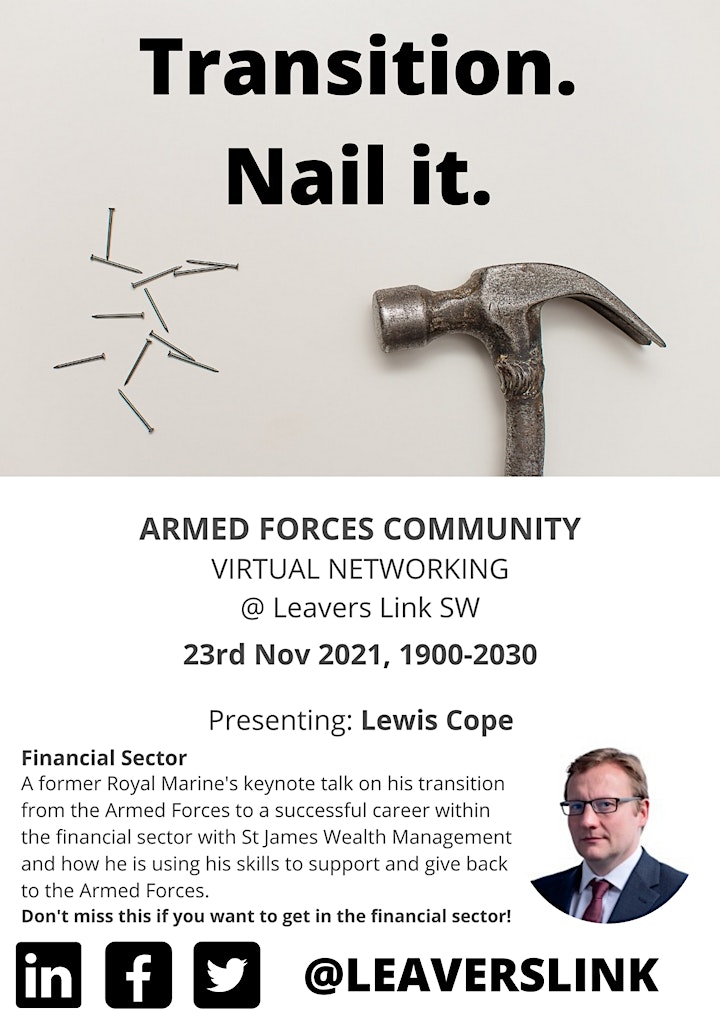 Our story...
Leavers Link has been running networking events for over 10 years and has expanded to provide networking in the SW. And whilst we are still physically distancing and keeping it virtual, the event is accessible across the country and we are actively encouraging you to attend regardless of your location.
Leavers Link SW provides a networking platform for all Service Leavers, Veterans and their families to link businesses with ex-Forces personnel. This gives access to industry experts for advice, to build confidence and grow valuable business connections and referrals to open up employment opportunities and trusted relationships.
Our events...
Your hosts are Janine Whitley, Abbie Pierce & Peter Houston. Being Veterans, they know how it feels to be isolated, embarking on a new career and adjusting to life outside the wire.
The business/industry experts will be a mixture of ex-Forces and civilians who are subject matter experts in their field. Businesses of different sizes from Veteran owned, freelancers, substantial national organisations, family-owned businesses, PLCs, new start companies and very mature businesses will be invited.
The attendees will be a mixture of Serving or ex Serving personnel and/or families of all ranks with a variety of military or civilian experience.
There are opportunities for attendees to introduce themselves and showcase their work experience, skills and learning aspirations and what they would like to get from the event. This will enable other attendees within business and industries to connect with veterans, build trusted relationships to share information and knowledge and increase working and business networks.
The meeting running order...
19:00 Welcome and introduction from Group Director
19:05 Super-short attendee introductions
Use the chat for virtual business cards/details
19:25 Keynote speaker and question time
19:50 Breakout room 1 - Get connecting
20:05 Brief Break with Top Tips of the week
20:10 Breakout room 2 - Choose your room with an SME
20:25 Closing comments and news from Group Director
20:30 End of meeting
During the event, you will have access to the Chatbox facilities. Please be aware that if you provide any information with your contact details then any person attending this event will have access to these details and could contact you. If you do not wish to be contacted by any attendee you will need to make this clear when you enter your details. Alternatively, only share your details with specific people via the direct message function.
Join us in our group on your preferred platform:
LinkedIn: https://www.linkedin.com/groups/3801788/
Facebook: https://www.facebook.com/LeaversLink
Twitter: https://twitter.com/leaverslink
WHAT'S ON NEXT?
December: Christmas break - no meeting and restrictions depending, it would be great to meet up in person for some festive drinks.
January: Clare Palmer