The Stray Cat Lee Rocker is ready to Rock This Town!
About this event
Direct from the USA, for a 5-night tour of the UK, it's the Grammy Award Nominated, Rockabilly AND Bass Player Hall of Fame Inductee; Lee Rocker of The Stray Cats!
As the talented double bass thumping, spinning and climbing acrobat next to Brian Setzer and Slim Jim Phantom in The Stray Cats, Lee Rocker helped put Rockabilly back in the charts in the 1980s. With worldwide mega hits, like "Stray Cat Strut", "Sexy and Seventeen" and "Rock this Town" the group sold over 10 million records and remain the most renowned Neo-Rockabilly group of all time. After gathering over 23 Gold and Platinum records, appearing on the cover of Rolling Stone Magazine, headlining countless international festivals and appearing on TV shows like Saturday Night Live and MTV during the channel's hey-day, Lee Rocker went on to establish a solid solo career.
As a solo artist Lee toured and recorded with George Harrison, Ringo Starr, Willie Nelson, Leon Russell, John Fogerty and The Rolling Stones, to name but a few. Now UK Rockabilly fans can experience the legendary Stray Cats bass player live in concerts across five venues in November 2020. Get your tickets soon, because Lee Rocker's army of loyal fans will be ripping away spots as soon as they're released!
TOUR DATES
WED 4 Nov 2020: Glasgow - Barrowland Ballroom
THU 5 Nov 2020: Newcastle - Northumbria Institute
FRI 6 Nov 2020: Manchester - Manchester Academy
SAT 7 Nov 2020: Bristol - The Anson Rooms
SUN 8 Nov 2020: London - The Garage
Lee Rocker & His All-Star Band
Legendary Stray Cats co-founder and pioneer of the original Rockabilly revival, Lee Rocker is joined on stage by a band matching both Lee's musicianship and showmanship on their respective instruments led by American guitar slinger and vocalist, Buzz Campbell. A renowned songwriter in his own right, Buzz is a name that should ring a bell for all fans of Rockabilly and Rock'n'Roll. In addition to writing his own material, Campbell has toured and recorded with names like Chuck Berry, Jerry Lee Lewis, Willie Nelson, Bo Diddley, Chris Isaak, and all three original members of The Stray Cats. So Campbell is right at home playing the guitar next to Lee Rocker!
Support: The DeadShots
To get the audience fired up for the main act, we have booked Britain's own, 'The DeadShots', as support for all 5 tour dates. This four-piece from North Worcestershire have been lighting up stages and audiences across the UK for several years now. The DeadShots showcase exceptional original compositions and honest performances of the most unexpected cover tunes you are likely to hear. If Lee Rocker helped put Rockabilly back on the map in the 80s, then these guys are doing the same for Rockabilly and Rock'n'Roll in the 21st century. In other words, this quartet never get boring!
A Rockabilly act worthy of sharing the stage with Lee Rocker, The DeadShots feature the wild shenanigans of Jack Smith, Billy Jenkins, Matt Waterhouse and Jim Jenkins. Smith runs on pure octane to keep audiences entertained. He delivers backup vocals, crazy dance moves and tight drum rhythms all at once that perfectly complement the calm and collected style of songwriter Billy Jenkins. Jenkins oozes cool while letting his fingers do the talking - ripping out blistering licks on the lead guitar without breaking a sweat. Joined on stage by vocal powerhouse, Matt Waterhouse on lead vocals, and the bearded beast, Jim Jenkins, slapping like a madman on the double bass. The DeadShots are bound to rock your socks off and get you ready for the big event!
If you're not familiar with The DeadShots, do yourself a favour and have a listen to their latest album, Wanted, released in early 2019. From the first week of its release this potent mix of Rockabilly and Rock'n'Roll got attention and airtime across multiple international radio stations — and you'll immediately hear why!
Tickets for the 2020 tour are available from Eventbrite, Skiddle and Ticketweb.
PLEASE NOTE – We have a No Refunds policy unless the event is cancelled.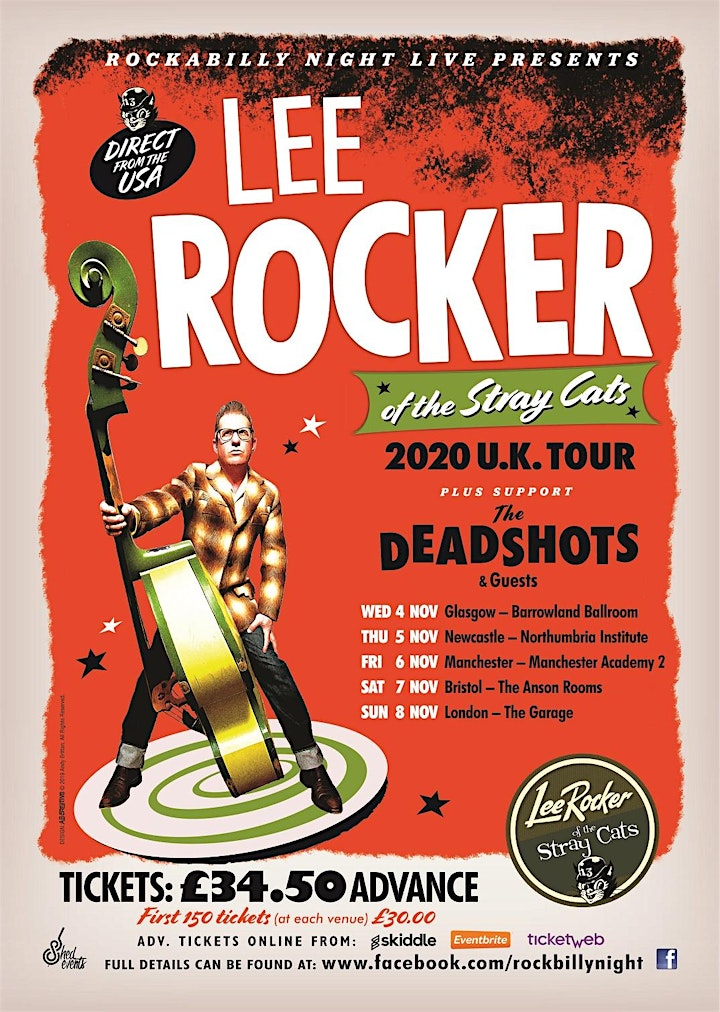 Performers
Date and time
Location
Organiser of Lee Rocker (of The Stray Cats) + Support From The Deadshots & Ignition