Dynamic portrait of a growing Georgian town – East End to West End
About this event
Two hundred years ago Leeds was in the thick of the 'industrial revolution'. Who were the influential people and what were the main events of note? How were the townspeople earning their living and what were they concerned about? What was the state of health care, education and cultural life? How did people, materials, goods, energy and ideas move around? Where was it all heading?
We'll meet some of the characters and see some of the places where they lived and learned, worked and worshipped, dispensed medical care, justice, credit or beer.
Drawing on the newly published trade directory, the 1821 Census, biographies, maps and more we'll conjure a sense of late Georgian Leeds – minus the smoke.Both parts will start with some introductory comments about the period after the Napoleonic Wars when Leeds was growing rapidly.
Part 2 takes a route from the working class east end, via the town centre to the west end. It encompasses contrasts in housing, trading, how the town was run, main institutions and the early service sector.
Meet in St Peter's Square, now the location of the BBC. Exact location: https://what3words.com/blur.metals.harder
We'll be following the Fowler 1821 map. A copy of the map and some notes will be sent ahead of the tour.
Part 1 in the morning covers early mechanised industry, the waterways and road routes, religion, some elements of education and the continuing importance of woollen cloth.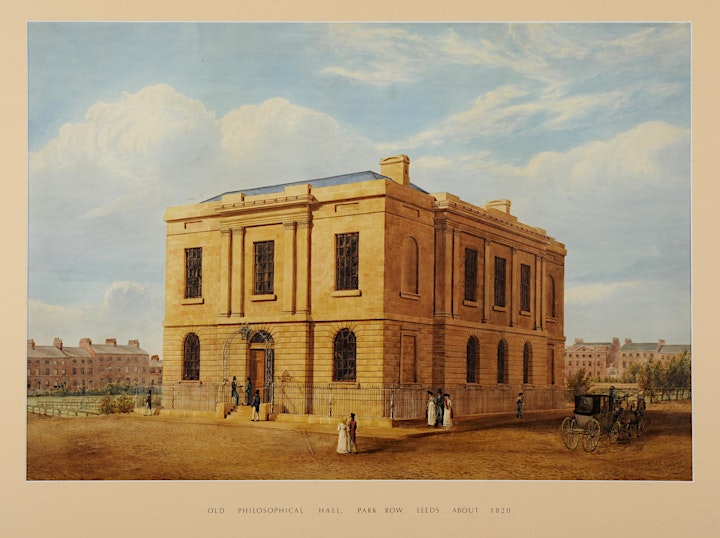 2021 marks 200 years since the Leeds Philosophical and Literary Society opened its museum in Park Row. This painting is by its architect, RD Chantrell,. who later designed the new parish church. The Philosophical Hall was remodelled and enlarged in the 1860s, damaged in WWII and demolished in the 1960s.
Below are Benjamin Gott, Edward Baines, Alice Mann and Charles Thackrah - all influential in their different walks of life.