Leeds Institute for Fluid Dynamics Colloquium - Featuring Yiannis Ventikos
LIFD Colloquium - Prof Yiannis Ventikos
About this event
Schedule:
15.00-16.00: Keynote talk from Prof Yiannis Ventikos, "Transport Phenomena for Brain Biomechanics and Related Healthcare Challenges: Computational Modelling Across Scales"
Speaker Bio: Professor Yiannis Ventikos is the Kennedy Professor of Mechanical Engineering and the Head of the Mechanical Engineering Department at University College London. He has worked or studied in Greece, France, the USA and Switzerland. Prof Ventikos has established the Fluidics and Biocomplexity Group that currently involves more than twenty researchers, mostly at the doctoral and postdoctoral level. He has published about 100 papers in peer-reviewed scientific journals, has contributed chapters in 5 books, has presented more than 200 papers in international conferences and workshops and has filed six international patents to date. He is the senior academic founder of a spin-out company and consults internationally in topics of his expertise. He has served as a reviewer for more than 50 academic journals as well as for textbook and monograph publishers. He is on the editorial board of four journals, and on the scientific and/or organising committee of numerous international conferences and workshops. Prof Ventikos' research focuses on transport phenomena and fluid mechanics, as they are applied to biomedical engineering problems, energy, innovative industrial processes and biocomplexity. Areas of research include arterial haemodynamics and tissue remodelling (with an emphasis on vascular diseases, like aneurysms), cerebrospinal fluid dynamics, shock-induced bubble collapse, droplet generation and deposition, targeted drug delivery, swirling flows, chaos, mixing and dynamical systems, organogenesis and tissue engineering, micro- and nano-technologies. Computational modelling is at the centre of his research, which spans the spectrum from fundamental to applied.
Keynote Talk Abstract: Transport phenomena, of nutrients, oxygen and metabolites, play a central role in life as we know it and, consequently, in a multitude of diseases. In this talk we shall discuss research pertaining to three scales of transport – molecular, tissue and organ level. Using appropriate computational techniques we shall examine ways to describe the interplay between the liquid media and the conduits and passages they travel through, as well as ways to design devices to address healthcare needs emerging from problems in this transport.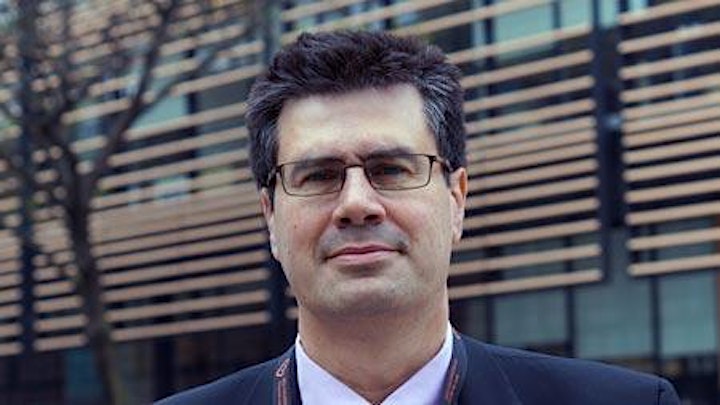 Organiser of Leeds Institute for Fluid Dynamics Colloquium - Featuring Yiannis Ventikos