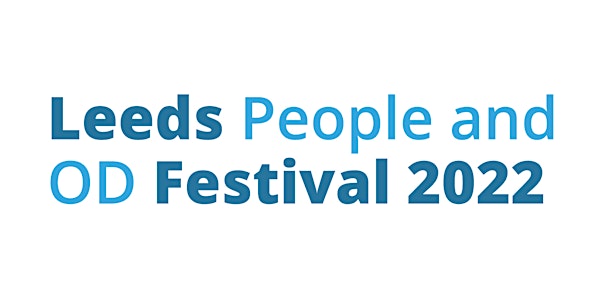 Leeds People & OD Festival 2022: Developing and Growing Our Workforce
Leeds People and OD Festival - Developing our workforce - Tuesday 14th June
About this event
Developed from a series of People and OD Forums in March/April, the Festival will take place 13th to 16th June
Join Developing Our Workforce to learn more about workforce planning, hear about progress on developing inclusive and innovative routes into and across health and care, and reflect on what we can do as a collective to grow and develop our current and future workforce.
This session will be hosted by Jenny Lewis, HR Director, Leeds Teaching Hospital Trust
Join Speakers, Chris Tissiman, Workforce Planning and Transformation Manager, Leeds One Workforce and Michelle Stanley, People Development Manager, Leeds Teaching Hospitals NHS Trust
What you will get from attending:
· Inspiring speakers and good practice – hear from leaders and colleagues in the health and care system to learn from their approaches
·Network and connect with peers – share experiences and discuss solutions to pressing challenges with peers from across the people community in Leeds
· Take action on our collective challenges – take time out to think differently, identify practical changes and share ideas for how we can improve things together
· Personal and professional development – in addition to the valuable connections, learning and developing solutions, you'll also receive a certificate of attendance to evidence your input into this system-wide festival.
Who should attend:
Across Leeds we have a wealth of experience, knowledge and expertise in all things People and OD. If you have a responsibility for any of the following in your organisation, you're part of our People and OD community...
Quality improvement
Organisational development
Managing teams and services in primary care, third sector or social care organisations
Recruitment and resourcing
Workforce planning
Workforce information
Human resources
Health and wellbeing
Training and development
Rostering
Diversity and inclusion
To read more about the purpose of the Leeds People & OD Forums, please visit the Leeds Health and Care Academy website:
Please note - this session will be hosted on Zoom. You will receive the information required to access the meeting at least 24 hours prior to the event via an outlook calendar invitation from the LHCA@nhs.net mailbox - if you do not receive this please get in touch.
Please make sure you use the same email address that you wish to have the calendar invite and session details sent to.