Description
Meet your speaker: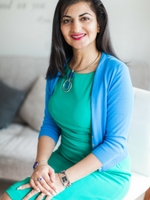 Harry Purewal is a House of Colour Image & Personal Branding Consultant. She has a background in corporate HR and a number of years running her own business and understands the challenges to getting noticed and getting ahead!
Talk focus: Harry will be addressing the importance of focusing on our external personal branding and the rewards this can bring. She will share the science behind why certain colours make us look in focus, healthy and illuminated whilst others leave us looking ill, bloated and tired. Also giving insight into different style profiles and how the styles we choose can reflect our authentic selves. With research showing that most of us wear 15% of our clothes, 85% of the time, our wardrobes are clearly not working as hard as the investment we make in them!
Come and meet like-minded business women at our Power Business Breakfast Club. Mix and mingle, discuss ideas and create those all important new connections in an informal setting, whilst enjoying a light breakfast - all in the heart of the city.
This event is free to Premium Members and only £12.50 + VAT for a standard ticket.
If you would like to find out more about our membership and other events please visit our website - www.forwardladies.com