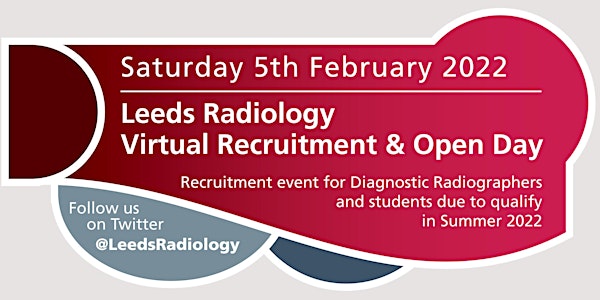 Leeds Radiology Virtual Recruitment Event 2022
Leeds Radiology Virtual Recruitment Event 2022
About this event
Leeds Radiology is recruiting Band 5 Radiographers. Positions are ideal for Radiography students due to qualify in Summer '22 in addition to existing Radiographers seeking to broaden their experience and benefit from a career in one of the UK's largest teaching hospitals.
The Leeds Radiology Virtual Recruitment Event will provide you with the opportunity to discover the benefits of a role as a Band 5 Radiographer at Leeds. You will hear from our most recently qualified Radiographers, who will share their experiences of starting their career with the Trust, and get insights from staff working in a variety of roles across our Radiology team. You will also learn about our comprehensive mentorship programme, clinical skills training and the support systems in place to assist your transition into your first Radiographer position. There will be an opportunity to participate in a Q&A session as well as an interactive session with Radiographer Reporting Practitioners.
Registration for the day is now open.
For more details or any questions, please email:
leedsth-tr.leedsradiologyrecruitment@nhs.net
Follow us on Twitter for Recruitment Event information and updates @LeedsRadiology
Why Leeds?
The Leeds Teaching Hospitals NHS Trust is one of the largest NHS trusts in the UK and employs over 15,000 staff across seven hospitals on six sites. Leeds General Infirmary is also home to the region's Major Trauma Centre as well as The St James's Institute of Oncology, housed in the state-of-the-art Bexley Wing.
As a regional centre for a range of clinical specialities, diagnostic imaging plays a fundamental role in all services, including Trauma & Orthopaedics, Oncology, Transplant Surgery, Oral & Maxillofacial, Paediatrics, Cardiology, Neurosurgery, Gastro-Intestinal, Elderly Medicine, Urology, Renal and Hepatology. The wealth of experience that can be gained at Leeds will lay the foundation for a successful career and offer a pathway into any avenue within Radiography that suits individual interests.
The Leeds Teaching Hospital NHS Trust has a vision to transform healthcare for patients from Leeds, the wider region and beyond. Hospitals of the Future is an exciting project involving the building of two new, state-of-the-art hospital buildings at Leeds General Infirmary. The buildings will deliver a range of adult health services and be the new home for Leeds Children's Hospital. Hospitals will be equipped with cutting-edge technology and the latest digital imaging equipment.
Opportunities in Leeds
The benefits of a Band 5 Radiographer role at Leeds Teaching Hospitals include cross-site Plain Film rotation across two hospital sites, each offering different clinical specialities.
Our established mentorship scheme includes a structured induction programme, clinical competency training, one-to-one mentor support and regular review meetings to ensure you feel supported as you develop your skills, knowledge and experience.
Continuous professional development as a newly qualified Radiographer includes red dot with progression to primary commenting evaluation. Training will also be provided to perform Radiographer commenting for nasogastric tube position.
Opportunities exist for Band 5 Radiographers to rotate into other modalities alongside Plain Film. Current Band 5 rotations include Cardiac Catheter Labs, Interventional Radiology and Nuclear Medicine.
Interested in applying for a Band 5 Radiographer post?
Candidates interested in applying for a Band 5 Radiographer post are encouraged to visit www.jobs.nhs.uk and apply online with Band 5 Radiographer Job Reference: 298-RAD-617
Candidates must possess a BSc Diagnostic Radiography, DCR or equivalent and be registered (or be about to register) with the Health Care Professions Council (HCPC). The successful candidates will need to be flexible and will participate in departmental 24/7 shift patterns.
References for students due to qualify this summer must be provided by a current Clinical Tutor AND academic referee.
Closing Date: 23rd January 2022
Interviews will be held virtually on the week commencing February 7, 2022.
We are limited to the number of allocated places at the virtual event, therefore prioritisation may be given to those candidates who are shortlisted for interview.
Shortlisted candidates will be contacted and allocated an interview date and time prior to the Virtual Recruitment Fair. The virtual event link will be emailed to registrants after registration has closed on Monday, January 31.