Description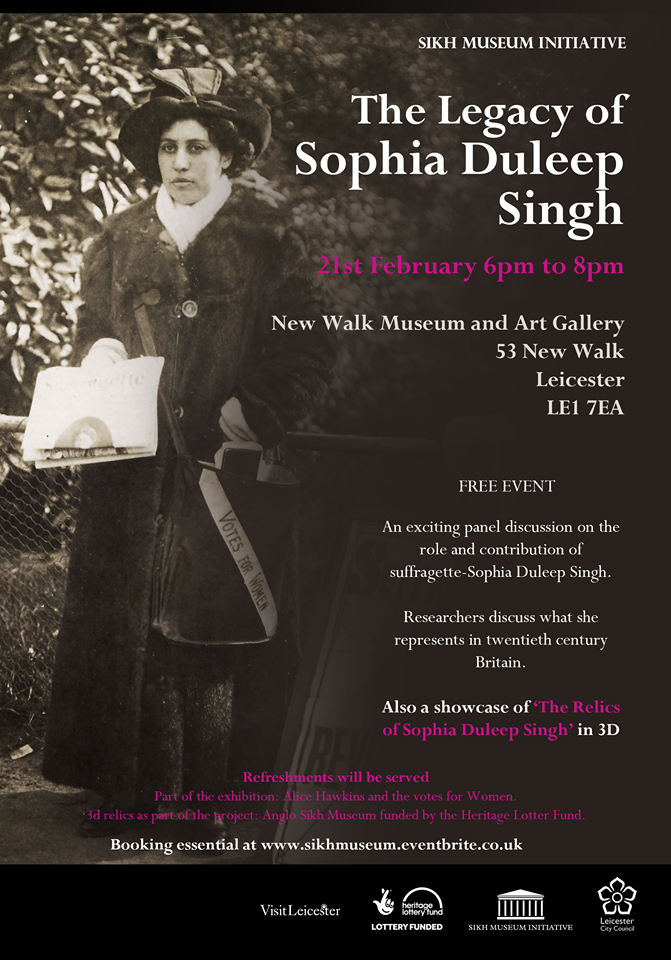 We have no more additional tickets for the event.

The Sikh Museum Initiative presents:
A panel discussion on the suffragette Sophia Duleep's, whose legacy in modern Britain will be explored.

We will be joined by a panel of young women researchers:
Kiran Singh (University of Derby)
Anisha Kaur Johal (University of Derby)
Kiran Bhogal (London School of Economics)

Also a special 3d showcase of 'Sophia Duleep Singh's jewelry handed to her from her father Maharaja Duleep Singh-part of the Anglo Sikh Museum Project.

See other rare documents and pictures related to Sophia Duleep Singh.
The event is part of the Alice Hawkins and the Votes for Women exhibition at New Walk Museum running until 24th of February 2019 and featuring a presentation on Sophia Duleep Singh.

The event will be filmed by Punjab 2000.
The Anglo Sikh Museum is funded by the Heritage Lottery Fund.

Only apply for the tickets that you require. Thank You.