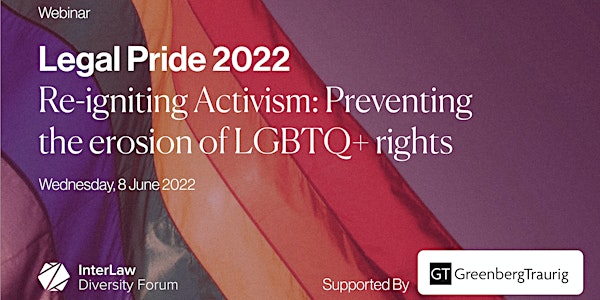 Legal Pride 2022 | Reigniting Activism: Preventing erosion of LGBTQ+ rights
Legal Pride 2022 | Reigniting Activism: Preventing the erosion of LGBTQ+ rights
About this event

Join us for a panel discussion focusing on the importance of activism in the LGBTQ+ Rights movement. We will bring together a panel of iconic change-makers and pioneers whose work across many years has improved the lives and freedoms of LGBTQ+ people.
At a point where LGBTQ+ rights are under threat in parts of the world – and on our own doorstep – we will explore the importance of activism today and the steps we all need to take right now to support and protect LGBTQ+ rights.
Our panel includes:
Reverend Jide Macaulay, Founder, House of Rainbow
Lisa Power MBE, Stonewall Co-Founder, Activist, HIV Expert
Peter Tatchell, Director, Peter Tatchell Foundation 
Daniel Winterfeldt, General Counsel EMEA & Asia, Jefferies; Chair, InterLaw Diversity Forum (moderator)
With a welcome from Claire Broadbelt, Partner, Greenberg Traurig, on behalf of our virtual host.
Thanks to our virtual host, Greenberg Traurig, for supporting this webinar.