Description
Why Water Safety Compliance Matters
As many of us already know, Legionella and regulatory compliance in Universities is essential and must be managed correctly. Whilst there are important moral and legal reasons not to mention financial implications to ensuring the right measures are in place, estate professionals should know only too well the reputational damage that a University would face if an incident were to make the news and legionella is one such newsworthy topic.
Operators of University premises have clearly defined obligations that must be fulfilled if they are to remain compliant with law surrounding the control of legionella on premises. However, legionella management is an area that requires an understanding or knowledge of statutory documents, guidance, water systems and building management.
The Training
This event aims to inform and create an understanding of Legionella bacteria as well as the responsibilities that are entrusted to responsible persons. Not only this, but the seminar will cover real case studies and cover the legal fall out in more detail to share experience of what can happen when things go wrong so others can learn from the valuable examples provided.
SMS Environmental, a national provider and recognised water hygiene consultant, are sponsoring the training, which I am contributing to, chairing and endorsing.
It would be great if you could take advantage of this free opportunity. Training is important to improve the day-to-day running of your organisation and to ensure staff are sufficiently informed to meet your legal duty of care.
Look forward to seeing you there,

Scott Trim
Assistant Director of Estates - Risk Management at Coventry University
Why Should You Attend?
The HSE is increasingly focussed on the competence and training of staff carrying out duties on site via inspections. In the case of Legionella control, this relates directly to guidance ACoP L8 that explains the regulatory requirement for the appointment of your responsible person.
Once a responsible person is appointed for your site it is recommended they should be suitably informed, instructed and that they are sufficiently trained and training is regularly refreshed so they understand their role and the overall heath and safety management within the organisation. The days training will provide a suitable opportunity to meet these requirements.
Who Would Be Interested?
This training seminar is aimed at duty holders and appointed persons responsible for your building. Delegates will most likely be either:
Senior management

Health & Safety managers

Site Engineers with specific responsibility for water

Facility and Estate managers
Training will fulfil the requirement for those responsible to have introductory knowledge on the main aspects of legionella and Legionnaires' disease, and to understand their role or can equally be used as a refresher to previous training that may have been undertaken.
The full day is complimentary and includes free use of the facility up until 2.30pm when drinks hosted by the event sponsors SMS Environmental will be made available to all delegates.
---
Agenda
9:00 - 9:30 Arrival refreshments & registration in the Event Suite
9:30 - 11:00 Training
11:00 - 11:15 Mid morning tea/coffee break with refreshments
11:15 - 12:00 Training
12:00 - 12:30 Lunch choice of buffet options
12:30 - 13:15 Training
13:15 - 13:30 Afternoon tea/coffee with refreshments
13:30 - 14:30 Training & Discussion followed by Q & A Session
14:30 - Close: Refreshment available
---

About the Speakers
Scott Trim - Assistant Director of Estates - Risk Management, University of Coventry
Scott has been working in Occupational Health and Safety for 20 years in wide variety of sectors including construction, engineering, science, R & D and Education. Before taking up his current position Scott was Health and Safety manager at Birmingham City University and previously the Managing Director of a successful health, safety and fire consultancy.
He is currently Chair of the Auditing Specialist Group which has led the review of the sectors Health and Safety Management Standard and Auditing Protocol, HASMAP.
Mike Crook MSc - Consulting Director, SMS Environmental
Mike is an experienced water treatment consultant with vast experience in all building types. His has presented at a number of conferences including BiFM (South West) Regional Conference (Grey Water Recycling – The Future), IOSH 2012 Manchester (Pseudomonas – The Invisible Threat) as well as providing CIBSE accredited Legionella Awareness Training .
Gavin Harris - Managing Director, SMS Environmental
Gavin's responsibilities involve ensuring the sustainable growth and financial stability of the company. He is instrumental in fostering a positive health and safety culture within SMS Environmental, leading them to become the 1st service provider to obtain UKAS 17020 accreditation for legionella risk assessments as well as to develop one of the industries 1st complementary software solutions focussing on improving water hygiene safety compliance.
---
The Venue - Coventry University, Engineering and Computing Building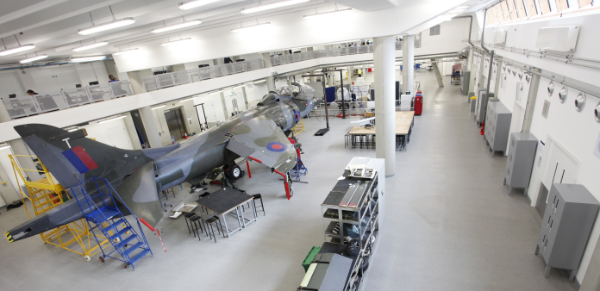 This building was completed in 2012 and is used solely by our Faculty of Engineering, Environment and Computing. Facilities include a high precision wind-tunnel, a £3m high-performance engineering centre, a Harrier Jump Jet, three flight simulators and the UK's largest magnet.
Coventry University is easily reached by road, rail or air. The visitor information shows you how to get to Coventry and, once you're here, how to find the University itself.
> Download visitor information pack
Transport -
Rail:
Once you arrive at Coventry, you have three ways to reach the University. If you take a taxi, the fare will be approximately £4 and you should ask for Coventry University in the City-centre.
Alternatively, buses leave the station for the City-centre every ten minutes (after 18.00, every 20-30 minutes).
If you choose to walk, it will take you 10-15 minutes and the route is marked on the map.
Road:
Coventry lies at the heart of a motorway network, with fast trouble-free roads right into the City. Once you get to the City-centre there are signposts to the University from all the relevant Ring Road junctions.
Bus:
For those travelling by bus or coach, the bus andcoach stations are just a few minutes' walk away from Priory Street.
Free Wifi avalible.
Contact -
For all enquiries please contact Lee Bainbrigge at seminars@sms-environmental.co.uk