Description
The goal of this one-day workshop is to take you on a journey through the Scrum framework. We'll be applying LEGO® Serious Play® techniques to facilitate you in understanding the underlying values and principles of this framework.
So brace yourself and get ready for an informative fun day, where we will challenge your creativity, imagination and take you back to your childhood nostalgy.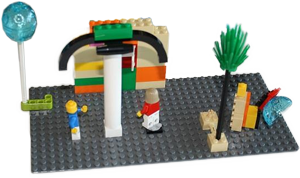 The program
This one-day workshop will contain the following:
Discover Scrum with

LEGO® Serious Play®.

Working in Sprints and build your LEGO product.
About Scrum
Scrum is the most adopted and popular Agile framework in the world. Scrum is a framework for developing, delivering, and sustaining complex products. Scrum is lightweight, simple to understand, but difficult to master. It's a framework within which people can address complex adaptive problems, while productively and creatively delivering products of the highest possible value.
About
LEGO® Serious Play®
The LEGO® SERIOUS PLAY® methodology is an innovative process designed to enhance innovation and business performance. Based on research which shows that this kind of hands-on, minds-on learning produces a deeper, more meaningful understanding of the world and its possibilities, the LEGO® SERIOUS PLAY® methodology deepens the reflection process and supports an effective dialogue.
About the trainer
Chee Hong Hsia is a Professional Scrum Trainers (PST) @ Scrum.org, the company of Ken Schwaber - cofounder of the Scrum framework and a Certified Facilitator LEGO® SERIOUS PLAY®. As PST, Chee Hong is licensed to teach the official Scrum.org courseware.
He has been heavily involved with Scrum since 2007. His experience comes from working with numerous organizations in Europe and Asia where he coach scrum teams, middle management and C-level executives in the art of servant leadership, empirical thinking, bottom-up intelligence, the power of self-organization, evidence-based management and validate-learning. With a software Engineering background, Chee Hong has a deep technical understanding and is able to coach development team engineering practices, software development principles.