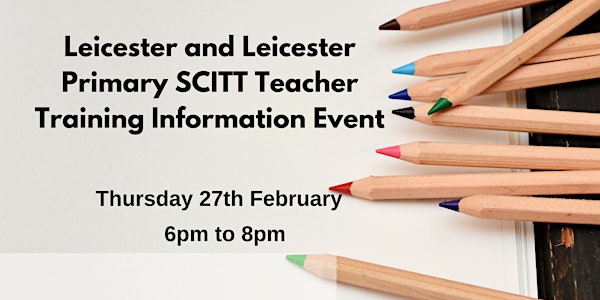 Leicester Primary SCITT/School Direct Teacher Training Information Evening
Location
Dovelands Primary School
Hinckley Road
(Gate is on Eastfield Road)
Leicester
LE3 0TJ
United Kingdom
Primary Teacher Training Information event. Ideal preparation for applications, interviews or next steps in becoming a primary teacher.
About this event
Thinking about teaching? This is the perfect event to learn more about the benefits of SCITT and SCHOOL DIRECT routes, all partnered with a University of Leicester PGCE.
Find out what makes the Leicester & Leicestershire SCITT / School Direct programmes unique and why the SCITT is independently ranked as the BEST primary teacher training provider in the East Midlands.
Learn about the application process, with advice on writing UCAS personal statements, the next steps you should take, and plenty of time for 1:1 question and answer sessions.
The information session is followed by a teaching and learning workshop, led by a qualified, experienced primary teacher, to get you thinking like a teacher and spotting the strategies employed in the classroom that make learning happen.
All in all, the perfect preparation for your UCAS application, for teacher training interviews, or for taking your first steps on the life long journey that is teaching!
This event is aimed at graduates or those currently studying for their degree.
You can attend just the information part of the evening or the workshop, depending on where you are in your journey to becoming a teacher.
If you aren't sure what would best suit your needs, please contact the SCITT office on (0116) 2543187 or admin@leics-scitt.co.uk for friendly, informal advice.