Meet Leicestershire's only professional beekeeper and get a TASTE of his life!
About this event
David McDowell is The Bee Farmer, a professional bee keeper who supplies Gelato Village with all of its honey. Find out more about the life of a bee keeper, what he makes and how he does it! Along the way there will be the chance to taste some delicious products, including Gelato Village's international award winning Bee Happy gelato, made with honey, sage and lemon zest.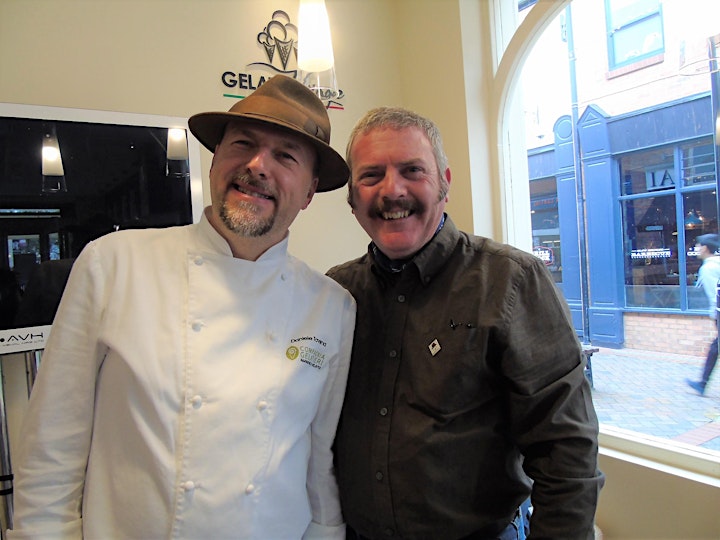 Organiser of Leicestershire Honey Showcase with The Bee Farmer
Gelato Village is the product of the passion for food held in the hearts of two Italians. They are natives of the Piedmont region which is the birthplace of the Slow Food Movement. Opening in the heart of independent Leicester in August 2014, we are committed to creating true Italian gelato with a unique sense of place.
The cornerstone of our gelateria is our milk. From Vine Farm Dairy, this milk is pasteurised, unhomogenised whole milk, from the herd of happy Montbéliarde, Jersey and Holstein cows who graze the grass pastures in Great Dalby, Leicestershire.
We sell the milk by the litre in the gelateria and supporting other local producers such as The Bee Farmer from Ashby-de-la-Zouch. Without this Leicestershire inspiration, it simply wouldn't be Gelato Village any more. This sense of place is also reflected in stock recipes like Alice Hawkins (lavender and white chocolate) and Richard III (fruits of the forest with homemade rose blossom essence) which give a nod to Leicester's heritage.