Welcome back to Leighton House!
About this Event
Leighton House, the spectacular former home and studio of Victorian artist Frederic, Lord Leighton(1830 – 1896), reopens for pre-booked visits at weekends only from Saturday 12 September 2020.
Please read carefully the following guidelines when planning your visit:
- Leighton House is open from 12 September 2020 on weekends only, from 10am to 5:30pm; last entry at 4:30pm.
- All visitors, including those entitled to free entry, will need to book a timed entry ticket in advance via this Eventbrite page. Tickets cannot be purchased at the door.
- Upon arrival, simply show your e-ticket on your phone or check in with a member of staff at Front Desk. ID / valid proof of membership will be requested where concessionary or free entry applies. If you cannot present your membership card, full charges will apply.
- A free introductory booklet to Leighton House is included within your entry ticket and  will be available for you to take upon arrival. Discover more about the artist and his work through our diverse range of online learning resources, downloadable room guides and our popular curated tour on the Smartify app.
- With the exception of Leighton's private bedroom and garden, the rest of the historic spaces are fully accessible as part of a one-way route designed to allow visitors to navigate safely and comfortably throughout the rich interiors. Museum staff are on hand for assistance and guidance.
- Safety measures are in place to protect staff and visitors, including screens in the reception area, a hand sanitiser station at the entrance and strict cleaning routines throughout the day.
- All visitors are required to wear face coverings in the house (aside from those who are exempt) and are encouraged to maintain a safe distance with others.
- Public toilets are available at nearby Holland Park (5-minute walk from Leighton House - see map below). Unfortunately, there are no public toilets open at present at the Museum. Visit our  Access and Facilities page for further information .
- The museum shop is open for cashless payments only.
Please stay home if you are feeling unwell, experiencing symptoms of Covid-19 or have been in contact in the last 14 days with someone who has Covid-19.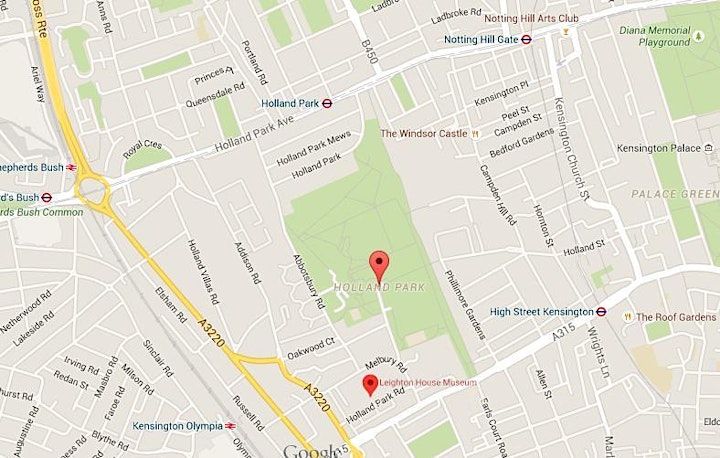 Thank you very much for returning to visit - we are delighted to be able to welcome you back safely.
If you are interested in the museum and want to find out more about how to support us please check out our ongoing Art Happens campaign at artfund.org/oneness
By helping us you'll be able to get some exclusive gifts, so if you always dreamed of a Leighton House tote bag, now is your chance to get it!