Description
Lela's Lounge Presents
Talk To Me
When: Thursday 20th June 2013
Where: Biagio Bankside, 32 Southwark Bridge Road, Southwark London SE1 9EU
Time: Doors open 6pm. Dates start 6.30pm
Dresscode: Dress to Impress
NOTE: Female tickets are now SOLD OUT - If you turn up at the door without a ticket, you will be denied entry. Females please add your name to the waitlist and I will put you on our mailing list for our next event.
MALE TICKETS AVAILABLE AND MEN CAN TURN UP ON THE DOOR.
Looking for something to do on a Thursday evening? Are you a Black Professional age 21-33? Tired of the same ol' clubs and faces? Looking to meet and interact with likeminded singles?
Come down to meet and relax in this elegant mixer with our resident Host: JJ Bola the poet. The DJ will be spinning the right tracks to set the ambience, all you have to do is turn up and date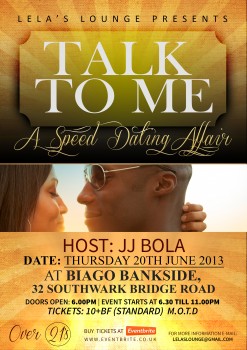 EVENT DETAILS
- Before the event
- Once you have booked your ticket, you will receive an email confirmation with details of the event. Should there be any last minute changes to arrangements we will email everyone in advance, informing them of any changes.
- We will kindly ask everyone to arrive 15-30 minutes before the scheduled start time as we aim to make a punctual start at all our events.
- Ok, next we will assign a host to welcome everyone as a group and explain how everything works. Everyone will be provided with a scorecard, number badge and pen. Then the lights go down, the music goes up and the exciting part of the evening begins!
Ps The first part of the night will be an ice breaker event to help everyone unwind before we begin the actual speed dating!
- During the event
- One of our lovely hosts will seat people at a well spaced out table for two where you will date the person across from you for three minutes. After the three minutes is up, a whistle will sound, marking the end of the date. We admit it, three minutes doesn't sound like a lot of time to chat to someone but trust us it is spot on. Three minutes is long enough for you to get a general vibe about each other while still leaving you intrigued, and (hopefully!) your mini-dates will leave you wanting to spend more time with them! Well that's the plan, isn't it?!
- The women remain seated and then men then pay their respects and move around clockwise to the next date, until everyone has completed their dates. Each round will be set off with a theme from our resident host and poet JJ Bola. There will be a short break during the event where you can get a drink at the bar, freshen up or just take a breather. We appreciate that everyone needs a quick break to compose themselves and their thoughts and this is why we make sure everyone is happy before we continue with the speed dating again. There will also be a resident poet at the venue performing poems to create a relaxed atmosphere.
- At the end of the Event
- Once the speed dating event is over, we encourage guests to stay around to enjoy the music and the company! This can be a great part of the evening and we really recommend you stick around.
- Before guests leave, we'll collect all scorecards and input and make the matches. Your matches will be given to you a week after the event. We will encourage people to not be disheartened if they don't get any matches. We will have different people at all our events, so next time they could meet their perfect date!
- The winning couple will win an all expenses paid first date.
"find our speed dating events on onlineandspeeddating.com