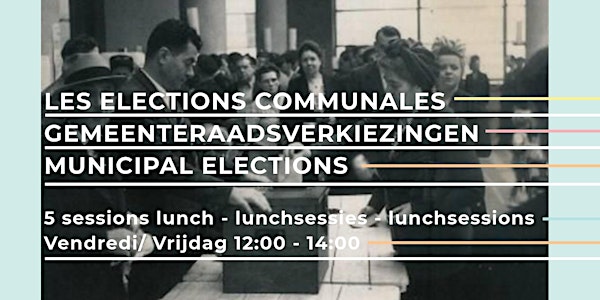 Les élections communales / Gemeenteraadsverkiezingen / Municipal elections
Description
Sessions lunch/ Lunchsessies / Lunchsessions
Vendredi/Friday/Vrijdag, 12:00 – 14:00, Maison des Cultures Molenbeek (4, Rue Mommaertsstraat 1080 Molenbeek)
21/09 Citoyenneté et droit de vote. Analyse de la participation aux élections communales (FR) - Thibault Gaudin (ULB)

28/09 Special session for the international community in Brussels: Q&A on the municipal elections in Brussels (EN) - Eric Corijn (Brussels Academy/Brussels for Europe) & Thomas Huddleston (VoteBrussels) & Karin Impens (Office of the Brussels Commissioner for Europe)
! Attention ! This time the address is: avenue d'Auderghem 63, 1040 Etterbeek


05/10 Communes bruxelloises : diversité des territoires, multiplicité des arbitrages ? (FR) - Benjamin Wayens (ULB), Nicolas Lagasse (FUSL)

12/10 Le cumul des mandats (FR) - Aurélie Tibaut (ULB)

26/10 Interpréter les résultats et les électorats (FR) - Emilie van Haute (ULB), Jean Benoît Pilet (ULB)
FR/ Les élections communales se dérouleront le 14 octobre 2018 à Bruxelles. La Brussels Academy, en partenariat avec le CEVIPOL (ULB), revient sur les grands enjeux de ces prochaines élections au cours de conférences-débats : quelle place pour les dix-neuf communes dans le paysage politique et institutionnel bruxellois ? Quel est le rôle des communes et des élus face aux nombreux défis de la ville et à la diversité des territoires bruxellois ?

EN/ The municipal elections will take place on 14 October 2018 in Brussels. We will discuss the main issues of these upcoming elections during lectures and debates: what is the place of the nineteen municipalities in the Brussels political and institutional landscape? What is the role of the municipalities and elected representatives in the light of the city's many challenges and the diversity of Brussels' territories?


NL/ Op 14 oktober 2018 vinden in Brussel gemeenteraadsverkiezingen plaats. Brussels Academy komt, in samenwerking met CEVIPOL (ULB), tijdens studiediscussies terug op de grote thema's van deze komende verkiezingen: welke plaats voor de negentien gemeenten in het politieke en institutionele landschap van Brussel? Wat is de rol van de gemeenten en de gekozen vertegenwoordigers in het licht van de vele uitdagingen van de stad en de diversiteit van het Brussels grondgebied?
This series is organised in partnership with CEVIPOL (ULB)