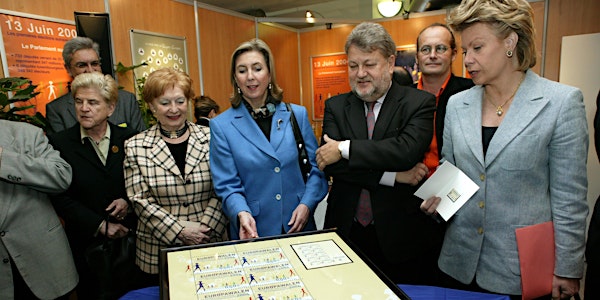 Les femmes dans les relations européennes et internationales du Luxembourg
Webinaire - Les femmes dans les relations européennes et internationales du Luxembourg
About this event
À l'occasion de la Journée internationale des droits des femmes, Europe Direct at the University of Luxembourg et ses partenaires - Luxembourg Centre for Contemporary and Digital History/Université du Luxembourg, le Ministère des Affaires étrangères et européennes du Grand-Duché de Luxembourg, la Représentation de la Commission européenne au Luxembourg, le Bureau de liaison du Parlement européen au Luxembourg - ont le plaisir de vous inviter au webinaire:
Le rôle des femmes dans les relations européennes et internationales du Luxembourg
qui aura lieu le 8 Mars 2022, de 14:00 à 15:30.
Programme
14: 00 – Ouverture de la manifestation par Dr Elena Danescu, Coordinatrice de l'Europe Direct Université du Luxembourg et Prof.Catherine Léglu, Vice-Rectrice académique
14h10 – Exposé de Mme Astrid Lulling, ancienne Membre de la Chambre des députés du Grand-Duché de Luxembourg et du Parlement européen
14h30 – Intervention de Mme Anne Goedert, Ambassadrice itinérante du Luxembourg pour les Droits humains du Luxembourg
14h45 – Session de questions-réponses et débats avec le public, avec la participation de Mme Astrid Lulling, Mme Anne Goedert et Mme Anne Calteux
15h05 – Lancement officiel du projet de recherche pluriannuel d'histoire orale "Le rôle des femmes dans les relations européennes et internationales du Luxembourg", mené par Europe Direct de l'Université du Luxembourg en collaboration avec le Luxembourg Centre for Contemporary and Digital History (C2DH) et le MediaCentre de l'Université, et avec la participation des étudiants du Master en Histoire européenne contemporaine (MAHEC).
• Présentation des premiers résulats par Mme Anne Schmit, étudiante MAHEC
15h15 – Intervention conclusive de Mme Anne Calteux, Représentante de la Commission européenne au Luxembourg
15h30 – Fin de la manifestation
Privacy notice
The University of Luxembourg (hereafter "Uni.lu") collects and processes your personal data in the framework of your registration and your participation in this event. Uni.lu processes and keeps your personal information only to the extent necessary to fulfill the purpose stated. The personal data collected is your first and last name and your email address.
Uni.lu is using Eventbrite to offer you an efficient registration tool. During the registration process, your personal data is being collected and processed on the Eventbrite website by Eventbrite Inc. located in the United States. As Eventbrite is an American Company this will involve the transfer of your personal data collected during your registration (name, surname, and email address [to be adapted depending on the event]) to the United States which is not considered to provide the same level of protection regarding your personal data as the European Union. Eventbrite Inc. may process your personal data as a controller for different purposes than the purposes of the University of Luxembourg. More information is provided on their webpage updated on 25th August 2020 and in their Privacy Notice.
Eventbrite may, as controller, transfer your personal data to other countries outside the European Union and European Economic Area which remains their decision and their responsibility.
You can deregister from the event directly on the Eventbrite website and withdraw your consent for the processing of personal data by Uni.lu for the purpose and modalities stated above. You have the right to access, rectify, and erase your personal data as well as further rights described on the Uni.lu website under the conditions of the General Data Protection Regulation 2016/679. You can exercise your rights by contacting europe-direct-university@uni.lu. In case of any questions related to the processing of your personal data you can contact our Data Protection Office at dpo@uni.lu.