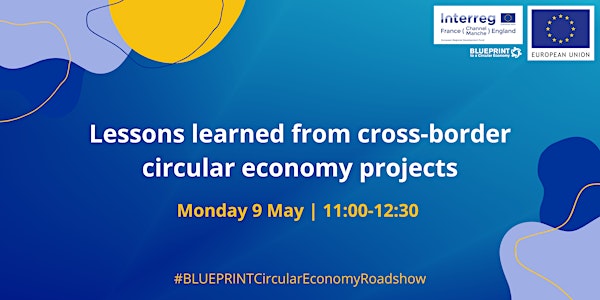 Lessons learned from cross-border circular economy projects
Find out what's happening across the continent to transition to a circular economy.
About this event
About the event
European programmes are helping to stimulate environmental and economic growth across the continent. This session gives attendees the chance to hear from projects accelerating the transition to a circular economy and developing innovative solutions to waste and pollution.
Who should attend?
Local authorities, businesses, research institutes, charities and social enterprises who are currently involved in – or hoping to be involved in – cross-border projects.
Speakers
Chair - Sallyann Stephen, Programme Manager, Interreg VA France (Channel) England
Rob Robinson, Sustainable Business Project Manager, Kent County Council/Upcycle Your Waste
Lauren Cox, Project Coordinator, PECT/Cool Food Pro
Marjut Villanen, RDI Specialist, LAB University of Applied Sciences/CECI Project
Barry Bendall, Operations Director, The Rivers Trust/Preventing Plastic Pollution 
More information
Please check your inbox for updates, including the virtual event link.
Please contact blueprint.project@essex.gov.uk for more information, or if you encounter difficulties accessing the meeting.
Join on Zoom
https://zoom.us/j/95308133759